Victoria man proves you are never too old to join band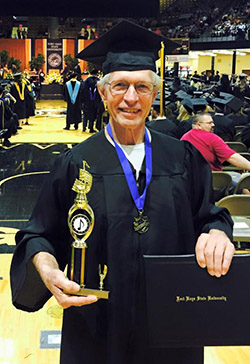 6/05/15
Sixty-nine-year-old Galen Schmidtberger, Victoria, graduated from Fort Hays State University for the third time at the 2015 commencement. In 1967, Schmidtberger earned a degree in German; in 1973, he graduated with a degree in physical education; and now he has a B.A. in music technology with a minor in music.

"I came back to school for marching band," said Schmidtberger.

In 2011, Schmidtberger was riding his bike on campus and decided to join the band. He walked into the office of Benjamin Cline, Music and Theatre Department chair, and said, "I want to play in the marching band. I don't care what it takes, I want to do this."

This is not Schmidtberger's first time studying music. After receiving his first degree, Schmidtberger served in the military for three years in the Panama Canal region. One day, an officer came into the barracks asking for volunteers to join the marching band. Schmidtberger had played saxophone since seventh grade and decided to audition. He was accepted, so he chose to study at the Navy School of Music for five months.

At the beginning of his first saxophone lesson, the instructor said, "Play me an E major scale and its relative minor."

"When he found out that I didn't know it, he said, 'If you don't know your scales, there's no way you'll make it in this school.' But I told him that I could learn. So, I would go into the jungle and practice my saxophone. After 10 weeks, I was able to play my scales, but I couldn't sight read. My instructor said that I wouldn't be able to make it through school if I couldn't sight read, so I became a military policeman," said Schmidtberger.

"What he said was always in the back of my mind. I wanted to study music so that I could prove him wrong. Not out of revenge, but to prove it to myself," he said.

Although he has played saxophone for decades, Schmidtberger chose clarinet as his primary instrument at FHSU because he wanted to learn how to play it. He soon discovered, however, that the low ranges of the clarinet and saxophone are very different.

"The clarinet had all these low ledger lines. I couldn't read them. And then, after my first lesson, Dr. Pisano, my clarinet teacher, knocked on the door of my practice room and told me that I needed to go to her clarinet choir meeting that night," he said. That was Dr. Kristen Pisano, associate professor of music and theatre at FHSU.

"I said, 'You know I can't play that music,' but she insisted," said Schmidtberger. "So, I went and played third clarinet, which was all in those low ledger lines. It was great."

In addition to clarinet choir, Schmidtberger played in the jazz band under the direction of Brad Dawson, associate professor of music and theatre.

"I was walking down the hallway with my saxophone and Mr. Dawson said, 'You need to audition for jazz band. At least audition, you have nothing to lose.' So there were 12 saxophones auditioning and I thought, 'There's no way I'll be playing in the jazz band.' But, I made it into Jazz II, and it's been very positive," said Schmidtberger.

Schmidtberger has an upbeat, affable demeanor that conveys his enthusiasm for learning and hard work. One of his goals as a student was to have a positive attitude and bring excitement to the other students.

"At first the students wondered what that old guy is doing here. But they accepted me as a student. An inspirational student. I wanted to inspire them," said Schmidtberger.

Schmidtberger participated in all the marching band exercises with the band members in spite of heat or rain. Afterward, much to the amazement of the other students, he would run three miles. In spite of being decades older than the other band members, Schmidtberger was brimming with energy and always going beyond what was expected of the students.

"I had perfect attendance for four years. I never missed any rehearsals or games. I didn't miss a minute, not a second. I made a commitment," said Schmidtberger.

In addition to his participation in band, clarinet choir, jazz band and concert choir, Schmidtberger has also served as a camp counselor at High Plains Music Camp. He uses his military training to keep his campers in line. He reminds the children to make their beds, practice and be prepared for rehearsals. He is stern, but he says the kids respect that. On the last day of camp, while most campers scramble to pack their bags, his campers are packed, with their luggage in a row, waiting for their parents to pick them up.

Schmidtberger plans to continue being a camp counselor now that he has graduated and wants to do so for many years.

Since he is retired, instead of trying to pursue a career with his music degree, Schmidtberger plans to use his degree to play, perform, compose and arrange his own music. He will perform in small venues in the Hays area with the many ensembles he is part of. He sings in the High Plains Barbershop Chorus and the Four Star Quartet; plays clarinet and accordion in a polka band; and directs the Trinity Methodist Church Choir in Russell. In addition, he holds his own personal holiday programs and gives the proceeds to charities.

Schmidtberger has advice for anyone thinking about returning to school. "Go for it. It's the best thing that can happen for you. If you ever have a big fear about what you can't do, jump into that fear and do it. I used to be afraid of music. Not anymore, no way."