FHSU group chases storms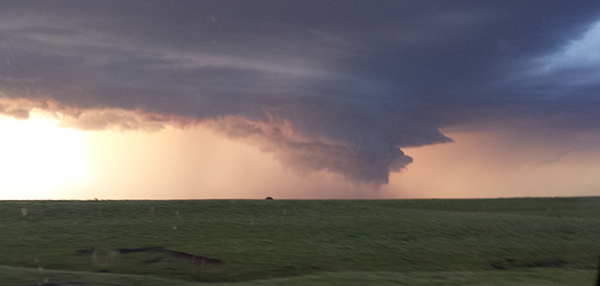 07/29/15
by Rachel Rayner
Students recently chased storms across eight states during an 18-day trip led by Fort Hays State University's Geosciences Department.

Eight students and two professors participated in the trip, led by Geosciences Department Chair Dr. Grady Dixon and Dr. Keith Bremer, assistant professor of geosciences.

Dixon was the navigator, deciding where to go and when to get closer or farther from the storms.

The group began each day with a discussion about the weather conditions and then drove several hours to get to promising storms. Sometimes they would reach a location only to go somewhere else with better conditions.

"The trip was probably not what you see online," said Dixon. "It's a lot of driving. It's very rarely adrenaline inducing."

Chelsea Winny, a recent FHSU business administration graduate, said that there was "a lot of preparation to get to a few hours of excitement."

"You've got to be patient," she said. "We went thousands of miles. It takes passion."

Thomas Giebel, a senior majoring in atmospheric science at Salisbury University, Maryland, joined the trip because he had always wanted to go storm chasing.

"We don't get storms like this in Maryland," he said.

The highlight of the trip was when the group saw two funnel clouds in the same day.

"I'm thankful that Dr. Dixon invited me on the trip," said Giebel.

The excursion was limited to eight students, and several students were on a waiting list.

"The model I like to use is one van," said Dixon. "That way I know all the students are in the van and can give them my full attention. There's less risk because you don't have to worry about vehicles getting separated, and it's easier to find hotels."

For more information about the storm chasing trip, email Dixon at pgdixon@fhsu.edu.
Photo by Chelsea Winny.