FHSU sports media guides earn national honors from CoSIDA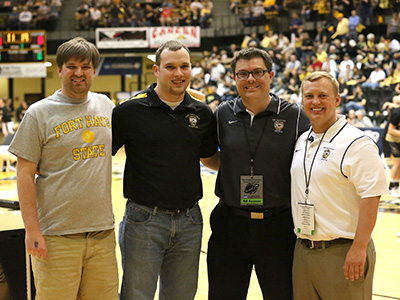 07/02/15
By Diane Gasper-O'Brien
University Relations and Marketing
Every sports season, they write thousands of words and calculate innumerable statistics about the student-athletes at their university.

This past year, Ryan Prickett and Andrew Sogn reported that the Fort Hays State University football team posted its first seven-win season in nearly 20 years ... that the record-setting women's basketball team won the MIAA title and advanced to the regional finals of NCAA Division II ... that a female javelin thrower recorded the best throw in the nation, broke the new-model javelin school record and went on to garner runner-up honors at nationals to cap her All-American season.

Prickett admits it's rewarding to track Tiger athletes' success. But it's nice when someone recognizes that you've been working hard all season, too.

Last month, Sports Information Director Prickett and Sogn, his assistant the past two years, learned that the Tiger volleyball media guide they produced last year was named "Best in the Nation" in the college division of the College Sports Information Directors of America competition.

The college division of the CoSIDA contest includes all NCAA schools at the Division II and III levels, as well as NAIA institutions and community colleges across the nation, while the university division is comprised of all NCAA D-I schools.

In addition, the FHSU women's basketball media guide created by the duo was ranked third in the college division, and the Tijger football guide produced by Prickett was third in that division and second among NCAA D-II schools.

Prickett -- who has 12 top-five national finishes in his 10-year career as the Tigers' SID -- has won multiple honors for his publications in years past. But this marks the first time that three of the four FHSU publications were honored in the same year.

Several years ago, Prickett set out to "get our publications on par with other quality institutions nationally." Following a lot of research, the volleyball media guide won Best in the Nation status in 2011. Since then, that publication has been named the best in NCAA Division II four years running. Mitch Weber, FHSU's digital imaging specialist, provided photos for the publications, and Jennifer Honeycutt, former FHSU employee, designed the covers.

"We're starting to see the benefit of the enhancements we've made to those publications," Prickett said. "I feel like putting in all that hard work is paying off."

For Prickett, even more rewarding than plaques hanging in his office, and what they represent, is watching the student assistants he has mentored move on to full-time positions at quality programs after graduation.

Prickett is the only full-time employee in the SID office at Fort Hays State, so student workers start gaining hands-on experience from the moment they walk in the door. He puts his assistant in charge of certain sports but also involves them in all aspects of the operation.

"I try to divvy things up so they get experience with all the sports. I want them to get a well-rounded experience," he said. "They are so job-ready when they get out of here."

One of those who was job-ready was Sogn, who was hired in April as a full-time assistant at Washburn University in Topeka a month before graduating from FHSU with a master's in sports administration, making him the fourth assistant under Prickett who has moved on to a full-time position at an NCAA D-II school. Marshall Fey, who graduated from FHSU in 2006, then earned his master's from Wichita State University, now is SID at Northwest Missouri State University, a member of the MIAA along with Fort Hays State and Washburn.

So Prickett looks forward to seeing his former assistants when teams from their schools play each other. In addition, Doug Self, who earned his master's from FHSU in 2012, and Tim Hanson (2013) now are SIDs at Southwestern Oklahoma State in Weatherford and Newman University in Wichita, schools which FHSU also meets periodically in non-conference play.

Self was part of the first-ever "Best in the Nation" honor for FHSU under Prickett's direction, helping with the volleyball guide in 2011, and Hanson helped create the 2012 volleyball guide that finished second in the nation.

The ability to mentor students under his direction is not lost on those close to Prickett.

"That's a great tribute to Ryan," said Curtis Hammeke, FHSU's athletic director. "That's another measure of how well he's done as SID, with so many of his assistants going on to full-time positions."

Sogn agreed. A native of South Dakota, Sogn had never heard of Fort Hays State before he saw an opening for a grad assistantship under Prickett. In doing some research, Sogn said he learned that "Ryan has a proven track record setting up his GAs for success so they can get good jobs."

But Sogn had several other opportunities for graduate assistantships, and FHSU wasn't all that high on his list -- until he talked to Prickett on the telephone.

"One phone call with Ryan, and I felt it was a good fit," Sogn said. "There was a connection with him immediately."

Sogn said one of Prickett's strengths is "giving us the opportunity to mature and grow up."

"If you made a mistake, he wouldn't fix it for you, but he wouldn't get mad, either," Sogn said. "He helped you figure out how to learn from your mistakes. He pushed me and helped me grow and get better, but I never felt any pressure."

Prickett didn't know it at the time, but he got his start in sports information at a young age. By the time he was 12 years old, he was keeping the official book for his sister's traveling softball team. He then went on to play three sports at Sacred Heart High School in Salina, where he said he learned the art of time management and organizational skills.

"I was a sports junkie in high school, and I always had that dream of doing something sports related," said Prickett, who came to Fort Hays State with intensions of possibly pursuing a career in radio and TV. "With this type of job, you have to be able to mange your time well, and be able to work on a lot of different things on a day-to-day basis."

When Prickett arrived on the FHSU campus in the fall of 1998, he went searching for the SID office. He laughs when recalling the reaction of then SID Jack Kuestermeyer.
"He was pleased," Prickett said. "He said people don't usually come asking him for jobs, that he's usually the one doing the hunting for students to help him."

Pickett decided to major in health and human performance with the idea of teaching and coaching someday.

Even after working in the SID office five years as a student as well as an additional two years as a graduate assistant, Prickett still was in teaching mode. And as he approached graduation with a master's in sports administration in the spring of 2005, Prickett was being courted by a school in New York. Then, a retirement at FHSU produced a domino effect that proved beneficial for all involved, including Prickett.

Long-time cross country and track and field coach Jim Krob retired, and SID Jason McCullough successfully sought Krob's position.

Hammeke was just finishing his first year as athletic director at Fort Hays State. He relished the idea of keeping consistency in the SID office and hired Prickett as the full-time SID.

"It was a good fit for me," Prickett said. "Everything worked out just right."

Just right for Prickett -- and Fort Hays State, too, Hammeke said.

"Ryan is very talented, and that's evident in the awards he's received," Hammeke said. "But in addition to that, his everyday professionalism and passion for athletics is visible."

"With the amount of hours and nights and weekends that kind of job requires, it takes a tremendous amount of enthusiasm and passion for what you're doing," Hammeke added. "His willingness to put in the time to do a good job is what sets him apart. He's just done a fantastic job all across the board, and we're very proud of him."