Fort Hays State welcomes annual community event to new venue inside Gross Memorial Coliseum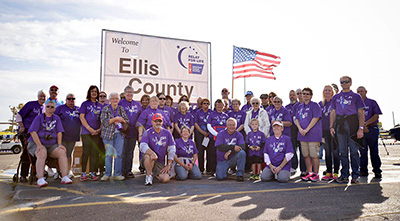 07/17/15
by Kent Steward
The Ellis County Relay For Life is coming to the campus of Fort Hays State University, and Kim Peach, the organizer of the event, said the new partnership is a natural.

"We are an international organization," said Peach, the American Cancer Society specialist for Relay For Life in northwest Kansas, "and Fort Hays State is world ready, so it couldn't be a better fit. Also, it doesn't hurt that by having our event in Gross Memorial Coliseum on the FHSU campus, we will not have to worry about the weather."

Dr. Mirta M. Martin, FHSU president, will speak during the opening ceremony of Relay For Life, and she agreed that the campus is a great venue for Relay For Life.

"Even with the amazing strides that have been made in the treatment of cancer, it remains a devastating disease that touches nearly every family in some way," President Martin said. "We are honored to be the site for this year's Relay For Life. I am asking the FHSU family -- students, faculty, staff, alumni and friends from the community -- to step up and form teams to participate in this marvelous event."

The 2015 edition of the Ellis County Relay For Life is scheduled for 3 p.m. to 10 p.m. on Saturday, Sept. 19, in Gross Memorial Coliseum adjacent to the U.S. 183 Bypass on the FHSU campus.

Relay For Life, a long and valued tradition in Ellis County, raises funds for the American Cancer Society, celebrates cancer survivors, and reminds those battling cancer or mourning lost loved ones that they are not alone.

For many years, the Hays Middle School outdoor track was the site of the Relay For Life, with teams walking around the track for 12 continuous hours. Teams set up "campsites" around the track, where many of them offered games, keepsakes and foodstuffs for cash donations. Last year, Relay For Life moved to the parking lot of The Mall.

At Gross Memorial Coliseum, there will still be campsites, and the track around the basketball arena will serve as a perfect location for luminaries and the team walkers. Participants will enjoy activities, games, food and entertainment while taking turns walking.

The main source of fundraising is the sale of luminaries for $10 each, which can be dedicated to loved ones and will be lighted at the event. However, the options are endless as to how teams can go about raising money for the cause.

As President Martin noted, it seems that nearly everyone has been touched by cancer in some way. This is an opportunity for our community to fight back.

The dollars raised by Relay For Life have real benefits through the American Cancer Society toward research and treatment. A breakdown of those benefits is available at www.cancer.org/research/infographicgallery/where-does-money-go-2012.

To register a team for the Ellis County Relay For Life, go online at ow.ly/PBSov. The Relay For Life website also offers online fundraising tools for teams. Learn more at relayforlife.org.

Volunteers also are needed to help with the event. To volunteer, or for more information about forming a team, call Peach at 785-639-3603.