Instructor's second children's book now available for pre-sale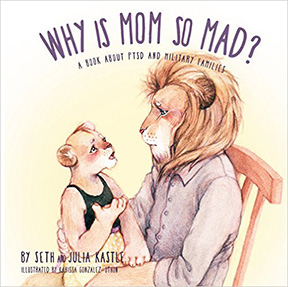 07/16/15
by Melissa Dixon
Seth Kastle's debut as a children's book author received widespread national attention after his book "Why Is Dad So Mad?" was featured on NBC Nightly News earlier this year.

His second book, "Why Is Mom So Mad?" is now available for pre-sale through major online retailer Amazon.

Kastle is a Fort Hays State University graduate and retired Army first sergeant currently teaching in the Department of Leadership Studies, primarily for FHSU's partner institutions in China.

He was motivated to write "Why Is Dad So Mad" to explain to his own children how combat-related post-traumatic stress disorder has affected him and countless other military parents.

Kastle co-wrote his second book with his wife, Julia, who is also a veteran.

Like Kastle's first book, the story addresses the struggles within a military family dealing with PTSD, but this time the mother is the wounded warrior.

The captivating illustrations in both books are the creation of senior FHSU studio art major Karissa Gonzalez-Othon of Colorado Springs.

Copies of "Why Is Mom So Mad?" can be reserved at www.amazon.com, while author updates are featured at www.kastlebooks.com.