Paleontology field camp deemed a success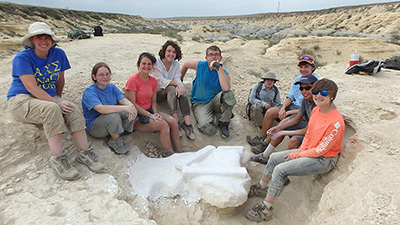 07/21/15
By Diane Gasper-O'Brien
David Levering participated in paleontology field camps as a high school student in Oregon. So he was privy to the benefits of hands-on experience as a teenager.

Darrah Jorgensen didn't have those same opportunities while growing up in Ottawa. So Jorgensen, a Fort Hays State University student working on her master's degree in geosciences, was just as intrigued as the eight high school students who participated in a 10-day paleontology field camp sponsored in July by FHSU's Sternberg Museum of Natural History.

Levering is education director for the Sternberg Museum, and Jorgensen is Levering's teaching assistant.

Jorgensen went to South Dakota School of Mines and Technology out of high school, and while visiting her older sister, then a student at FHSU, the summer before Jorgensen's junior year at SDSMT, she volunteered at the Sternberg Museum and worked with Dr. Laura Wilson Brantley, curator of paleontology. Jorgensen decided then and there where she wanted to pursue her master's degree.

"I learned a lot about museum collections that summer," Jorgensen said, "and I wanted to work with Dr. Wilson again."

Levering and Jorgensen gave the students projects that ranged from classroom lessons -- indoors and out -- to actual field experience.

"I thought it was different that you got the opportunity to go work out in the field," said Marjie Cone, a junior-to-be from McHenry, Ill. "We got to learn all the aspects of paleontology."

That's the main goal, Levering said.

Students were introduced to a variety of characteristics of paleontology. They took a GIS class to learn how to mark the location of, how to excavate and how to clean fossils. They spent time in the biology laboratory on campus and working in the museum.

They visited different fossil beds and even got to dig up a Mosasaur skull and vertebrae in Gove County.

"I really liked the digging," Cone said. "That's one of my favorites."

It was challenging work, Levering said. "We gave them college-level content. They struggled a little bit, but that's where they learn."

That didn't bother the students, said Jane Deibel, a senior-to-be from Columbus, Ohio.

"What we're learning here is very specific to what I want to learn," Deibel said. "They even talked to us about education and what colleges are good to go to for what we want to learn."
Deibel said her dad, knowing she was interested in learning about paleontology, found the Sternberg camp on line.

"I wouldn't have gotten this opportunity in school," she said.

Cone agreed.

"We got a taste of what a job like this would be like," Cone said. "We got a lot of hands-on experience that a lot of other people don't get, and now I think I have a better idea of what to look for in a college."

Searching for a college that specialized in paleontology is something Jorgensen had to do on her own.

"The fact that these opportunities are available for high school students this early is a good thing," Jorgensen said.

She and Levering both deemed the camp a success.

"I think it was a better group dynamic with more students this year," Levering said. "I thought it would get there, but in three or four years. I was surprised the quality -- and quantity -- of students in just the second year."

Levering ran a high school paleontology camp in Oregon while attending the University of Oregon and said he knew then that it was something he "wanted to do in the future."

Levering, who earned his master's degree from Oklahoma State University, is in his second year as education director at the Sternberg.

Levering credits the diverse experience for drawing students to the Sternberg camp.

"I think the thing that sold parents was that we're charging a lot less than some other places," he said, "and it's a very authentic experience that combines academic components with field work. We give them a lot of different components of paleontology."

Cutline: Darrah Jorgensen, left, teaching assistant at Fort Hays State University's Sternberg Museum of Natural History, helped lead high school students from several different states in a Mosasaur dig in Gove County during a 10-day paleontology field camp in July.