Shriners Hospital patients show off strength of a different kind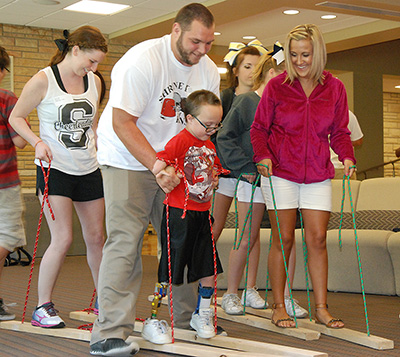 07/28/15
By Diane Gasper-O'Brien
The slogan for the annual Kansas Shrine Bowl All-Star Football Game is "Strong Legs Run That Weak Legs May Walk." But even at a strapping 230 pounds, Ethan Fritschi didn't feel so strong Thursday afternoon.

Fritschi, an offensive lineman from Erie High School, was having difficulty maneuvering his 6-foot, 5-inch frame while wearing boots that simulated walking with a prosthetic leg.

A member of the West team that will take on the East in Saturday's 42nd annual Shrine Bowl Game at Fort Hays State University, Fritschi is one of hundreds of teenagers on campus this week preparing for the game.

The football players, as well as band members and cheerleaders, are involved in a variety of events ranging from a barbecue and Friday night's banquet, then Saturday's parade and game. Thursday's up-close-and-personal contact with the patients gave the participants a glimpse of why the game is played in the first place.

The Shrine Bowl game is a fundraiser for Shriners Hospitals for Children, a healthcare system of 22 hospitals that provide pediatric specialty care including orthopedic, burns, spinal cord injury rehabilitation and cleft lip and palate. Proceeds from the Kansas all-star game go to the Shriners Hospital in St. Louis.

Thursday, the participants met Shriners patient ambassadors who manned different stations around FHSU's Memorial Union that represented some of the different procedures the young patients have to go through.

This particular station was one of the most popular because of the participation level.
"I don't feel safe," Fritschi said when some of the ambassadors told him to jump with the boots on.

OK, so get down in your stance, one of them told him.

Fritschi smiled confidently, bent his long legs, leaned forward and promptly fell down.
It was an eye opener for Fritschi and the rest of the hundreds of football players, band members and cheerleaders who participated in the drills.

"I'm usually a pretty independent person," said Andrew Feldkamp from Axtell, a 6-1, 230-pound offensive lineman for the East team.

Feldkamp didn't master walking backwards with the boots as well as Fritschi and required some assistance.

"Having to have others help you really makes you kind of uneasy," Feldkamp said.
The patient ambassadors were anything but uneasy as they mingled with the older students and told their life stories.

Eight-year-old Justin Bowman Jr. from Wichita, born with disabilities to all four limbs, was in command, picking volunteers out of the crowd.
"You and you and you, come out here," he said, pointing to different members of the football teams and cheer squads.

"He figures out a way to do whatever he wants," said his mother, Beth Bowman.

Kim Litzau from Crystal City, Mo., mother of 11-year-old A.J. Litzau, agreed. "There is no 'I can't do that' for these kids," she said.

A.J. came to live with the Litzau family as a foster child when he was about 18 months old.

"He hasn't let any of this stop him from doing what he wants," Litzau said of her youngest son, who was born with scoliosis and a club foot on his right leg that was eventually amputated.

"He plays football, he plays basketball, he runs," she said. "Being an ambassador has really improved his confidence."

Cierra Brumback was pulling double duty Thursday. Brumback, who will be a sophomore at Girard High School this fall, is a member of the Kansas Masonic All-State High School Marching Band who has benefitted from the care at Shriners Hospitals.

Brumback's left ankle was severely injured in a gunshot accident when she was 10 years old, causing muscle and nerve damage. She sometimes can't feel the bottom of her foot but still participates in marching band and even plays softball.

"I've been in marching band since sixth grade," she said. "I love it."

Members of the local Fort Hays Shrine Club even got in on the action Thursday, leading the various groups to their stations.

Dr. Robert Keener, a veterinarian from La Crosse and assistant professor of agriculture at FHSU, said he thinks a change in 2011 to the visitation process was a good move. In the past, Hospital Visitation Day featured only players visiting the hospital in St. Louis.

This is the fifth year that some patients came to the camp, giving band members and cheerleaders the chance to meet the patients as well.

"The fact they've brought this to the campus is tremendous," Kenner said. "So many more students get to experience this."

This marks just the fourth time in 42 years the Shrine Bowl game has been held in Hays. The West team is 3-0 at Lewis Field Stadium, and they admitted they are looking forward to Saturday's game.

But visiting and interacting with Shriners Hospital patients is a part of the Shrine Bowl experience that participants just might remember the most.

Feldkamp admitted meeting the Shriners patients was rewarding, he said while talking about a sticker labeled INAM that the players are wearing on their helmets this week.

"It's not about me," Feldkamp said, explaining the acronym. "It really makes you think."

CUTLINE: Hoisingten's Seth Owen, a member of the 2015 Kansas Shrine Bowl West team, helps Justin Bowman Jr., an 8-year-old Shriners patient ambassador from Wichita, balance himself during an exercise at Thursday's visitation day at Fort Hays State University.