Dennis King moves into manage enrollment and retention position at FHSU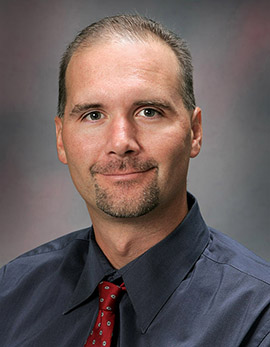 08/21/15

A national search to fill the enrollment management and retention officer/assistant vice president for Student Affairs position at Fort Hays State University has been completed with the hiring of Dennis King.

King has been director of the FHSU Virtual College and learning technologies since July 2004.

"After an extensive national search where three finalists were brought to campus, I am pleased that Dennis King has accepted this extremely important position," said Dr. Joey Linn, vice president for Student Affairs.

"Dennis emerged as the clear choice with his extensive background in higher education and his impressive track record," Linn said. "I am confident he will lead Fort Hays State University into the future as we look to grow the enrollment footprint of the campus both online and on campus. Our goal is to continue to attract more qualified students to FHSU, retain them and ultimately graduate them as proud alumni."

Dr. Mirta M. Martin, FHSU president, said enrollment and retention were two areas of emphasis for the future of the university. "Last year, for the first time in history, revenues generated by tuition and fees, at 31.7 percent, were greater than revenues received from state appropriations, at 27.3 percent," she said. "Therefore, more than ever, Fort Hays State is heavily dependent on tuition dollars and must continue to grow."

President Martin said retention -- the rate at which students successfully complete their degrees -- was also of utmost importance. "We are committed to helping our students maximize their potential by graduating and enjoying successful careers," she said. "Now, with the selection of Dennis King as our new chief enrollment management and retention officer, all the pieces are in place. He brings proven talents and experience to the job, and I know our students will achieve even greater success thanks to his leadership."

King will continue to have a role overseeing operations in the Virtual College. "It is important for people to know that we are not breaking up the Virtual College or changing its operation," he said. "Rather, we are drawing together the enrollment management functions from units across the campus. We will have all-encompassing enrollment management operations, which will allow us to serve our students better and make us more efficient in meeting the needs of the state work force to help Kansas grow."

King is already making the transition into his new role. "My years of leading the Virtual College have been extremely rewarding, and I will always be thankful for the assistance of the highly talented staff there," he said. "It's exciting to take on this new challenge and gratifying to know that part of my duties will continue to include working with them. I am confident this position will be a great help to our students and will make a major contribution to the continuing growth of Fort Hays State."

As assistant vice president for Student Affairs, King serves as a member of the Student Affairs executive leadership team responsible for enrollment and retention. King will be directly responsible for all undergraduate enrollment and will work collaboratively with the Graduate School, FHSU's international partnership programs, and all enrollment and retention initiatives. He will benchmark and identify best practices and implement a wide range of recruitment, retention, and outreach projects and initiatives as well as increasing the percentage of students who graduate.

Other pressing initiatives include assuring the effective use of technology and analysis of data in achieving enrollment objectives; monitoring trends in the economy to identify and capitalize on potential growth markets; and enhancing the university's visibility and market position. King will work with the university's leadership team to advance academic quality and diversity of the student body. He also will direct the assessment efforts for the Division of Student Affairs.

King was director of FHSU's Center for Teaching Excellence and Learning Technology from January 1998 to July 2004; an adjunct professor for the Department of Information Networking and Telecommunications from August 1999 to the present; interim assistant dean for the Virtual College from August 1997 to July 1998; and media production specialist for CTELT from January 1996 to August 1997.

King received a bachelor's degree in Broadcast Technology Management at the University of Wisconsin-Platteville in May 1992 and a Master's of Communicating Arts at the University of Wisconsin-Whitewater in May 2000. This fall he received his Ed.S. from Fort Hays State and is completing an Ed.D. at Lamar University.

Kenton Oliff, assistant vice president for Student Affairs, chaired the search committee, assisted by Bev Schmeidler, administrative assistant. Other members of the committee were Dr. Brenda Hoopingarner, chair of the Department of Allied Health; Craig Karlin, registrar; Debbie Staab, assistant director for student success in the Virtual College; Dixie Balman, assistant athletic director for compliance; Dr. John Greathouse, chair of the Department of Agriculture; Dr. Keegan Nichols, assistant vice president for Student Affairs; Phil Wittkorn, director of operations for Chinese partnerships; Dr. Tim Crowley, dean of the Graduate School; Tricia Cline, admissions director; and Ulises Gonzalez, president of the Student Government Association.