FHSU events prepare new students for university life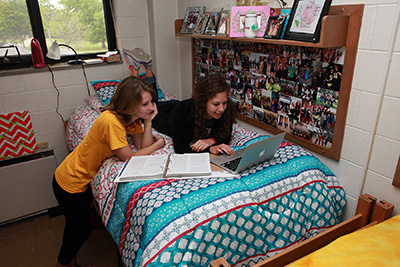 08/12/15
by Rachel Rayner
From move-in day to going Greek, Fort Hays State University's back-to-school programs will help new students transition to life at FHSU.

New Tigers will kick off the school year with the orientation and transition events of the First 40 Days with Tiger Impact Fall Orientation Weekend, headed by Brett Bruner, director of transition and student conduct. Activities are designed to help students make friends, discover campus resources, learn about college issues and transition academically from high school.

"Institutions have a responsibility to support students in their academic and social transition into college," said Bruner.

The weekend's events count down to the first day of classes and the annual Back to School Picnic Monday, Aug. 17, on the FHSU quad, where departments and organizations set up booths, hand out merchandise and inform students about themselves.

Students will move into the residence halls Thursday, Aug. 14 from 8 a.m. until noon. A playfair will be at 8:30 p.m. at Lewis Field Stadium, but the weekend's main events begin with keynote speaker Arel Moodie at 9:30 a.m. Friday, Aug. 14, in the Beach/Schmidt Performing Arts Center.

Moodie will teach success and self-confidence techniques in his signature program "Your Starting Point for Student Success." Moodie is an author, motivational speaker and businessman who was named in Inc. Magazine's "30 Under 30" list alongside entrepreneurs such as Facebook founder Mark Zuckerberg. At 23 years old, Moodie co-founded his first business, The Placemaker, a website that helps students find off-campus housing, roommates and sublets.

The weekend's other major events include:

Friday, Aug. 14, 3-4 p.m., Memorial Union Black and Gold Room -- Phired Up, a job fair for new students seeking part-time work. On- and off-campus employers will set up booths in the Memorial Union where students can interact with employers.

7:30 p.m., Beach/Schmidt -- Christopher Carter, a mentalist who reads nonverbal cues and teaches students how to spot and interpret them, allowing them to communicate more effectively with one another. Carter's interactive and theatrical style has made him one of the nation's most popular college speakers for more than 18 years.

Saturday, Aug. 15, 9:30-11:45 a.m., Memorial Union Sunset Lounge -- Big Day Out Service Project, in which students choose to volunteer at off-campus locations such as gardening at Bethesda Place, a Christian non-profit where six men with developmental disabilities live and garden, or sorting and hanging clothes at Jana's Closet, which provides free professional clothes for women. They can also choose to volunteer on-campus by either packaging food at the Tiger Food Exchange, gardening at the Victor E. Garden or writing greeting cards for the patients at St. Jude's Children's Research Hospital.

"Last year we had about 75 students participate in the service project," said Bruner.

9-11 p.m., McMindes Hall F-2 parking lot -- An outdoor headphone disco party will stream music directly to students' headphones on three different channels, allowing them to choose the station they want. If they choose the red channel their headphones will light up red and so forth.

"It's really fun to see because it's silent, and people will sing along to the songs," said Bruner.

Sunday, Aug. 16, 8 a.m.-2 p.m., McMindes Hall -- Mystery Bus, a new activity, will allow students to learn about the community. Three buses will take participants to a series of mystery businesses or centers for recreation and hobbies. Mystery Bus No. 1 lasts from 8 a.m.-2 p.m., bus No. 2 from 10:45 a.m.-2 p.m. and bus No. 3 from 1-2 p.m.

"One of the common complaints that we've heard in the past is that students aren't connecting to the community," said Bruner. "We wanted to give students an opportunity to connect with a variety of groups in the community."

8:30 p.m., FHSU Quad -- Tiger Impact Weekend will end with the Class of 2019 Candle Lighting Ceremony. Student Government President Ulises Gonzalez, Garden City senior, will address the new FHSU students about what it is to be a tiger and the code of honor that goes with it. Gonzalez and the orientation counselors will hold lighted candles representing the current generation of FHSU students and will then light the candles of the new students.

"It's something nice to close the weekend and say 'You're now part of the Tiger family,'" said Bruner.

After Tiger Impact, students will participate in the First 40 Days at Fort Hays State University, which helps students transition by listing and organizing campus events into a variety of tracks: academic and cultural, personal development and community building, leadership and service, and social. Students must attend two social events and one activity in each remaining category. The events range from Greek recruitment to organizational meetings.

The events of the First 40 Days include many typical campus activities, but the program helps new students decide which groups and activities they want to integrate into their lives as FHSU Tigers.

For the full Tiger Impact schedule, visit www.fhsu.edu/fye/tiger-impact.

For more information about the First 40 Days, visit www.fhsu.edu/fye/welcome-programs.