FHSU students complete study abroad program in China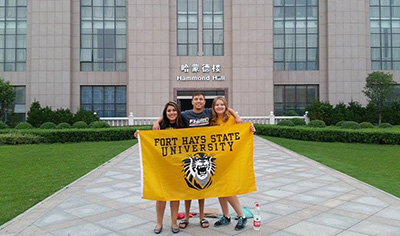 08/10/15
by Samantha Dean
When the opportunity of a life time presented itself, three Fort Hays State University students decided to go where none of them had ever gone before: China.

The students jetted off to study abroad at Sias International University in Xinzheng, China, visiting major cities in the first week and attending language and culture classes during the last two weeks.

"China is a complete 180 from Kansas," said Spencer Delgado, Garden City junior. "I feel like I gained knowledge and a diverse opinion about another culture."

"I really enjoyed the classes we took," said Lizette Avalos, Liberal senior. "The teachers molded them to fit our interests while still teaching us a new language and Chinese culture. We were sore for weeks after learning kung fu."

The students were selected for the program based on an application and interview process. FHSU President Mirta M. Martin provided funds for the airfare, and Sias International University provided meals and accommodations. The only cost for the students was additional tours and trips.

"The Summer Palace in Beijing was my favorite site," said Carly McCracken, Goodland junior. "It was the perfect mixture of human architecture and nature. Also, taking a paddle boat out on the massive lakes was really fun."

"The Great Wall of China was amazing," said Delgado. "It felt like walking back in time on a piece of history."

"It was cool that the Chinese history we learned in our classes tied into the places we visited," said Avalos. "We weren't just traveling, we were learning."

While at the university, they met other students from around the world.

"I really enjoyed hanging out with our cultural partners," said McCracken. "We even shared some of our mid-western culture by teaching the Korean students participating in the program how to swing dance."

"Spencer celebrated a birthday when we were over there," said Avalos. "We sang him 'Happy Birthday' in all of our native languages: English, Mandarin, Spanish, Portuguese and Korean."

FHSU offers the study abroad program at Sias International University every year for three students selected from those who meet the requirements.

"Seeing Hammond Hall on their campus made me realize what an impact our university has made," said Avalos. "FHSU is beyond Hays, America, and it was amazing to see that firsthand."

"This was a fantastic opportunity for me offered by FHSU, and every student should take advantage of it," said McCracken. "Life is too short to live in a tiny corner of the world."

For more information, contact Cindy Elliott at 628-5834, Mary Meier at 628-5818 or Carol Solko-Olliff at 628-4276.