Great Bend mobile app features Wetlands Center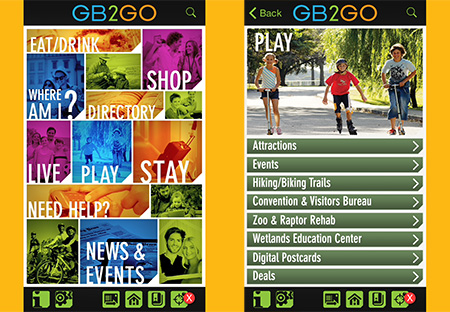 08/19/15
by Rachel Rayner
Cheyenne Bottoms Wildlife Area visitors can now guide their own tours of the state park using the Great Bend 2 Go mobile app, a free community app created by the Great Bend Tribune.

The Kansas Wetlands Education Center created a driving tour for the GB2G. The driving trail has 11 stops, each with a 2 to 5 minute video about topics such as how the water is managed, the migration of birds, hunting heritage and wildlife.

Curtis Wolf, manager of the Wetlands Center, said the tours are important because they give people more information than they would otherwise have access to.

The Wetlands Center, managed by Fort Hays State University's Sternberg Museum of Natural History, is located at 592 NE K-156 Highway, on the edge of Cheyenne Bottoms Wildlife Area about 10 miles northeast of downtown Great Bend. Its mission is to educate the public about the importance of wetlands and the need for their conservation using interactive exhibits and outreach programs focusing on Cheyenne Bottoms and the Quivira National Wildlife Refuge.

The Bottoms are the largest wetland in the interior of the United States, supporting hundreds of thousands of migratory shorebirds and waterfowl during nesting, staging and wintering periods.

More species of birds are seen at Cheyenne Bottoms than anywhere else in Kansas. At least 39 species of shorebirds stay there, as well as many threatened or endangered birds and at least 330 species of the 470 species native to Kansas. An estimated 45 percent of all migratory shorebirds that nest in North America feed and rest at Cheyenne Bottoms.

"It's a huge attraction to bird-watchers, hunters and nature enthusiasts, but it's generally unknown to most people," Wolf said.

Cheyenne Bottoms is free and open year-round to vehicles. From April 1 to Oct. 31, the center is open Monday-Saturday from 9 a.m.-5 p.m. and Sundays from 1-5 p.m. From Nov. 1 to March 31, the center is closed on Mondays and open Tuesday-Saturday from 9 a.m.-5 p.m. and Sundays from 1-5 p.m. Visitors can also reserve times after hours.

For more information about the Wetlands Center, visit www.wetlandscenter.fhsu.edu.