Students come from near and far to participate in Core2Campus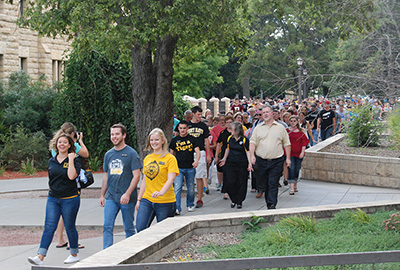 08/28/15
By Diane Gasper-O'Brien
University Relations and Marketing
Bjorn Kruse is disappointed his stay in America is going to be for just one college semester. It's easy to see why he likes America -- and specifically, Hays, America.

Just two weeks into the fall semester, Fort Hays State University students have had the opportunity to choose from an abundance of activities in which to participate.

Thursday was an eye opener for Kruse, a foreign exchange student from Germany who was among several hundred people marching from campus to downtown Hays as part of the third annual Core2Campus event.

"We don't have big ceremonies like this back home," said Kruse, an English. "International orientation, picnic, lots of things. It's been a busy couple of weeks."

Fort Hays State President Mirta M. Martin often refers to the university and the community of Hays as being one big family, which is exactly what organizers had in mind when Core2Campus began two years ago.

The event was started as a way of getting students downtown to become familiar with businesses and business owners there.

Major sponsors are FHSU, Downtown Hays Development Corp., Hays Convention and Visitors Bureau, and Eagle Communications, but 30 businesses participated in one way or another.

Students and faculty followed the Tiger marching band and cheerleaders from campus to downtown for an evening of eating and shopping and drawings for lots of prizes ranging from iPads and gift cards to a pair of airline tickets.

"This is our family," Martin said as the large group gathered along 10th Street just north of the railroad tracks at the end of the march. "Fort Hays State University is a family, and this is your home. Welcome home, everybody!"

Several downtown businesses were open for people to browse and gather tickets for a drawing of numerous prizes. A free meal by Taco Shop was served in the Union Pacific Park at the corner of 10th and Main.

"I think it was a big success," said Sara Bloom, executive director of DHDC. "It was really windy, but it wasn't too hot, and it wasn't raining. There was plenty of water available and enough food for everyone."

Many students were new to the event such as freshmen Joey Harrington, Minneola, and Jake Tackett, Deerfield, who are roommates in Wiest Hall.

"We thought this was a good way to meet people," Harrington said, "so we figured we might as well do it."

Others were participating in their third Core2Campus, including a couple of FHSU juniors from Denver.

"It's a fun social event, and it's nice to get out of the house for a while," Austin Foster said.

"I like to stay afterward to talk to business owners. It's really interesting to hear their story," said Lauren Solzman, adding that "it's fun to get to help the freshmen get to know the downtown stores."

Solzman said she didn't know much about downtown Hays when she first came to town in 2013 until she participated in Core2Campus.

"Now, I shop at a lot of the stores down here," she said.

Numbers participating in the event have increased each year. The first year, it was mainly FHSU students and faculty and staff in the march. Last year, the Hays Academy of Hair Design was added to the list. And this year, about 80 students and staff from the Hays campus of North Central Kansas Technical College joined in the fun.

"We're pleased to be a part of this," said Eric Burks, president of NCK Tech. "We're pleased to be a part of this community."

Len Melvin, co-owner of Hays Academy of Hair Design, agreed.

"A town this size to have three institutions like this is unbelievable," said Melvin, a 2000 graduate of Fort Hays State who stayed in Hays to raise his family and run a business. "Three of our four owners are graduates of these three schools. Hays has great opportunities for students, a lot of options."