FHSU president 're-energized' by Pope's message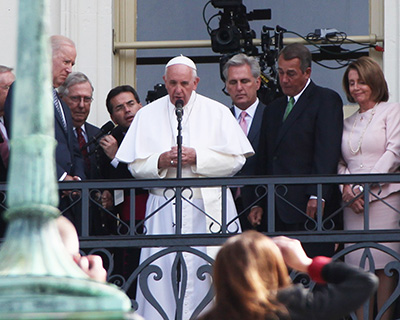 09/30/15
By Diane Gasper-O'Brien
University Relations and Marketing
HAYS, Kan. -- She admits she is seldom at a loss for words. But Dr. Mirta M. Martin found it hard to find the right words to describe her recent "once-in-a-lifetime experience."

Martin, president of Fort Hays State University, was one of hundreds of thousands of people who flocked to the nation's Capitol last week to get at least a glimpse of Pope Francis during his visit to America.

"There was an energy in the air I have never felt," she said.

Martin received an invitation from U.S. Congresswoman Lynn Jenkins and Congressman Tim Huelskamp to attend Pope's visit to the Capitol last Thursday, and she immediately began making plans for the trip. Martin left her Washington hotel at 3 a.m. Thursday to make sure she got a good spot on the West Terrace lawn of the Capitol.

She said she could feel the anticipation growing as people waited for the Pope to complete his address to Congress.

"When the Pope came out on that balcony, you almost dropped to your knees," Martin said. "The air was energized with faith."

Martin, a devout Catholic, had hopes of getting close enough to the Pope to give him a photo of her daughter, Katherine, and ask him to pray for her.

Katherine Martin is a 25-year-old doctoral student at the University of Miami who suffers from chronic pain disease stemming from a fall during a gymnastics routine 10 years ago. Katherine broke her back during the fall, and while she recovered from her injuries, she still suffers from nerve damage from the impact.

While Martin was "disappointed I wasn't able to put her picture into his hands, I felt so energized, and I felt Katherine and others who suffer like her received his blessing and his compassion.

"This was a personal pilgrimage for Katherine, for those who suffer, for Fort Hays State University. It was a personal pilgrimage to revitalize the strength in my faith, too. I'm very much at peace."

What particularly caught Martin's attention was the Pope's reference to instilling hope and leading with the heart.

"I felt like the words of the Pope were intended for me," she said. "He talked about leading with the heart and charity, and that's what I want to do because leading with the heart is principled, servant leadership."

The Pope also said "to make sure the fruits of our labor are for the common good," Martin said.

"The speech was one I needed to hear, to reaffirm the course for this institution," she said. "The Pope gave me reaffirmation that the vision I have, a vision that is shared, embraced and supported by the Fort Hays State University family has, is the right vision; it is the right journey."

Martin, announced as the ninth president of Fort Hays State in May 2014, is the university's first woman president and the first Hispanic president in the Kansas Board of Regents system.

Following a whirlwind 14 months since her arrival on campus in July 2014, Martin said her trip was "a refreshing retreat."

"It gave me strength to continue what we started here, the energy to continue this journey," she said.

Martin's mantra even before being named FHSU president was "We Are Family."
Pope Francis reaffirmed that message for her.

"His message was, 'We are one people, we are one family,' " she said. "He talked about taking care of your family. It was a simple message, but such a powerful message."