FHSU's Science and Mathematics Education Institute to celebrate Space Week, STEM, with rockets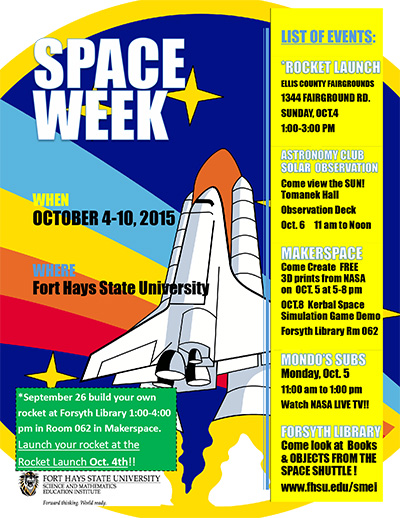 09/22/15
by Sophia Young
HAYS, Kan. -- To kick-off World Space Week, Fort Hays State University's Science and Mathematics Education Institute is sponsoring Super STEM Saturday from 1 to 4 p.m. Sept. 26 in the Forsyth Library's MakerSpace, room 060.

Super STEM Saturday will involve designing and building rockets, 3D printing, bristlebots and learning to solder. The event is free and open to all of the FHSU and Hays communities.

Rocket launches will be from 1 to 3 p.m. on Sunday, Oct. 4, at the Ellis County Fairgrounds, weather permitting.

World Space Week is from Oct. 4 through Oct. 10. FHSU will celebrate by streaming NASA TV from 11 a.m. to 1 p.m. on Monday, Oct. 5, in Memorial Union's Cody Commons. Also on Monday, MakerSpace will be open from 5 to 8 p.m. for free 3D prints from NASA.

From the observation deck in Tomanek Hall, the Astronomy Club will host a solar observation of the sun from 11 a.m. to noon Tuesday, Oct. 6.

Space Week will also include a demo of the multi-genre game Kerbal Space Program, where players create their own space program and spacecrafts.

To find out more about what is happening during Space Week, visit www.fhsu.edu/smei/Space-Week/ or call Cari Rohleder at 785-628-4743.