Janette Meis joins FHSU Alumni Association as coordinator for alumni, chapter programs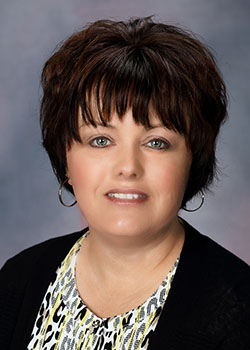 HAYS, Kan. -- Janette Meis, Hays, recently joined the Fort Hays State University Alumni Association as the program coordinator for alumni and chapter programs. Meis will work with existing chapters to increase involvement and assist with the expansion of the FHSU alumni chapter systems through the United States and beyond.
Meis, a 1993 FHSU graduate, will also develop programs to better engage alumni and increase their involvement with the university, including working with current students.
Prior to joining the FHSU Alumni Association staff, Meis worked as the state director for the Kansas Court Appointed Special Advocate programs for more than 15 years, providing technical assistance, training and support to the 23 CASA programs in Kansas. She has experience with project management, communication, grant writing, public relations and program development.
Meis is a second generation Tiger, following her mother, Janice Dreiling, a 1967 graduate. She lives in Hays with her husband, Tom, a 1993 graduate, and two children, Nick and Zach.
FHSU has more than 61,000 alumni living throughout the United States and 73 foreign counties. For more information, contact the Alumni Association, 785-628-4430 or toll free at 1-888-351-3591, email alumni@fhsu.edu or visit
www.goforthaysstate.com
.