Kansas Board of Regents showcases FHSU faculty art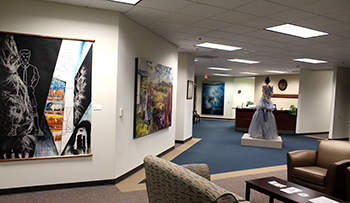 09/15/15
by Rachel Rayner
Fort Hays State University art faculty will be featured for the 2015-2016 Kansas Board of Regents Artwork Loan Program, which features Regents university artwork.

More than 30 works of sculpture, ceramics, painting, printmaking, graphic design, drawing and photography from the faculty of the Department of Art and Design are on exhibit in the Kansas Board of Regents office, 1000 SW Jackson St., Suite 520, in Topeka.

"It's very exciting to be featured," said Karrie Simpson Voth, professor of art and design and interim chair of the department. "We are very proud and honored to have our work displayed at the Board of Regents. We brought our best pieces to represent each area."

The opening reception of "Faculty Showcase" will be from noon to 1:15 p.m. Wednesday, Sept. 16, in the Regents office, preceding the board meeting. Light refreshments will be served, and participating artists will be in attendance.

Guests will be greeted in the lobby in front of the boardroom by a "Belle," a life-size ceramic sculpture of a woman wearing an evening gown made of wire and fabric, a specialty of Linda Ganstrom, professor of art and design. On one of the walls beside the Belle is a large painting of a man swimming underwater with jellyfish, painted by Joel Dugan, assistant professor of art and design. The pieces have the same color scheme and create an atmosphere for visitors.

The other artwork can be found around the board members' offices. "They're very excited to have the artwork around their offices," said Simpson Voth.

The exhibit is open to the public for the entire academic year. To learn more about the FHSU Department of Art, visit www.fhsu.edu/artanddesign. For more information about the Board of Regents, visit www.kansasregents.org.