A chance to honor real-life heroes this week in Forsyth Library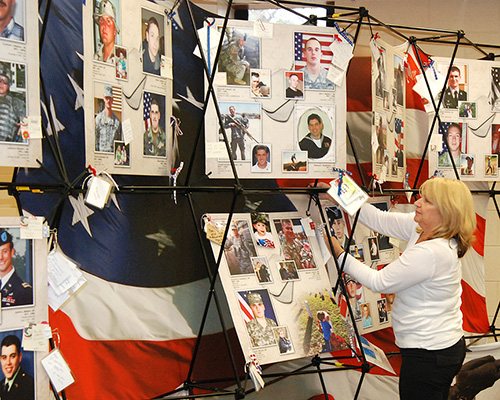 10/26/15
By Diane Gasper-O'Brien
University Relations and Marketing
HAYS, Kan. -- At a must-see exhibit this week in Fort Hays State University's Forsyth Library, students, staff, faculty and the general public can get a glimpse of some real-life heroes.

"Remembering Our Fallen," a traveling photographic memorial honoring Kansas' Fallen from the War on Terror in Iraq and Afghanistan, went up Monday morning on the first floor of the library, where it will be on exhibit through 1 p.m. Friday afternoon.

The exhibit -- a stark reminder of the sacrifices made by soldiers and their families -- can be viewed during library hours, from 7:30 a.m. to midnight Monday through Thursday and from 7:30 a.m. Friday to the close of the exhibit.

Hays is the shortest distance that people in northwest Kansas will have to travel to view the memorial since it appeared in Ness City in October 2012. Kansas is one of 22 states that currently has an exhibit that includes military and personal photos and other memorabilia donated by families of the soldiers.

Included on one of the panels are photos of Hays native CW2 Bryan Nichols, one of the pilots of a chinook helicopter shot down in Afghanistan in August 2011.

"This is overwhelming," said Deb Ludwig, dean of Forsyth Library, as she watched the exhibit take shape Monday morning.

Ludwig stopped as she wiped tears from her eyes.

"I think people will really enjoy this," she said. "It's heartbreaking and inspiring at the same time."

"Sometimes I cry, too," said Deb Austin, Gardner, a member of the Northeast Kansas Chapter of American Gold Star Mothers. "But I wear those tears with honor."

Austin travels the state setting up the exhibit and can't help but glance often at one particular photo -- the one of her 19-year-old son Pfc. Shane R. Austin, who was killed in action in October 2006.

"I'm so proud and honored to do this," Austin said, tenderly placing roses around photographs of soldiers who died after they came home from the war.

"All of these need to be honored," Chuck Lutters said, watching Austin at work. "They all fought for our country. They're all heroes."

Austin agreed.

"These boys are going to live in our hearts forever," she said. "If this exhibit brings awareness for others when they do come home and are starting their new battle here, that's all the better."

Lutters -- who splits time among three homes in northwest Kansas, including one in Hays -- is the father of Sgt. Derrick Lutters who grew up in Goodland and died in Iraq in May 2005.

Lutters smiled to see several FHSU students come by to check out the exhibit even before Austin was finished setting it up.

"This is really honorable," Lutters said. "There's a lot of respect paid here. There's a lot of sorrow, but a lot of pride, too."