Benefit exhibition to help former art student, instructor afford brain surgery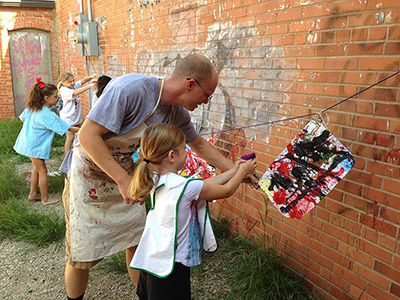 10/12/15
By Sophia Rose Young
University Relations and Marketing
HAYS, Kan. -- Brian Hutchinson, a former Fort Hays State University student and instructor, is facing pricey medical bills after brain surgery, and to help lower the costs for him, his wife and two children, the Hays Arts Council will host a benefit exhibition from 7 to 9 p.m. on Friday, Oct. 23, and noon to 3 p.m. Saturday, Oct. 24, at the Annex Gallery, 1010 Main.

Art in the exhibition is a donated mix of sculptures and paintings with a majority of donations coming from community members and FHSU faculty.

The art sales will benefit Hutchinson and hopefully alleviate a little financial pressure, said Brenda Meder, executive director of HAC.

"Brian is loved here at FHSU. He taught as an adjunct professor while Gordon Sherman was on sabbatical," said Toby Flores, associate professor of art and design. "He has a beautiful family, and we are all pulling for him to have a full recovery. The exhibit is just a small way for us to show him how much he means to us."

Hutchinson drove from Ellsworth to Hays each day to teach a variety of art methods to children during the HAC's extensive summer art programs, said Meder.

"He finds a way for art to really connect for the kids. He is brilliant with what he is able to pull from them and make them blossom with their own skills and techniques," she said. "Students are inspired by him."

"He was an outstanding student and is an amazing person, father, husband, artist and teacher," said Flores. "He took some sculpture classes with me, and although his major was printmaking, he was a very talented sculptor. At first I knew him as a student, but over the years I had the opportunity to know him on a more personal level."

"It has always been a true pleasure to work with Brian. Not only is he a great art teacher, he is organized, professional and great to deal with," said Meder. "He has a wonderful wife -- she's a gem -- and two fabulous kids."

"He is doing fine and his spirits are high," said Sherman, professor of art and design.

"I'm hoping people will see this as an amazing opportunity to get out," said Meder.