Challenge of using wind for electricity topic of Science Cafe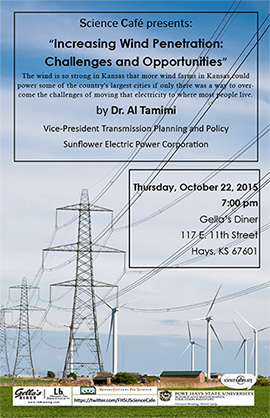 10/17/15 rg
HAYS, Kan. -- Dr. Al Tamimi, vice-president of transmission planning and policy for Sunflower Electric Power Corporation, will give a presentation at a Fort Hays State University Science Café on the challenge of using wind power in Kansas as a source of electricity at 7 p.m. Oct. 22, at Gellas Diner & Lb. Brewing Co., 117 E. 11th.

"Increasing Wind Penetration: Challenges and Opportunities" will cover the use of wind as a source of electricity and the challenge of moving that electricity to where most people live.

This Science Cafe is sponsored by the FHSU Science and Mathematics Education Institute. Admission is free.