FHSU staff member creates scholarship to honor her father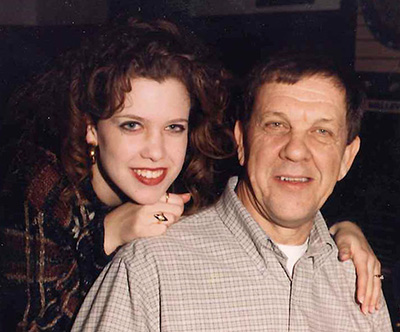 10/12/15 rg
HAYS, Kan. -- Nicole Frank's father was more than influential in her life. He was incredibly giving of himself throughout the course of his life, so it only seemed appropriate to honor him with a gift to others. This led Frank, the coordinator of adjunct support and engagement with Fort Hays State University's Virtual College, to work in conjunction with the Fort Hays State University Foundation to set up the Harold J. Frank Memorial Scholarship to support FHSU students.

"I had been thinking about creating a scholarship for several months. The catalyst was coming across a 2009 Washington Monthly article about how scholarships are often designed for the very people who don't need them," said Frank. "While I didn't agree with everything in the article, I couldn't deny that most scholarships I knew of prioritized students with resumés full of extracurricular activities, and I know there are students who often lack the time and the money for a lot of extracurriculars."

Her father, Harold Frank, grew up very humbly in Hays -- so humbly that he had permanently disfigured toes as a result of wearing hand-me-down shoes that were typically too small for him by the time they were passed down.

"My dad played in the band, because his school provided the instrument, but otherwise he worked. He started working as a child, throwing newspapers so that he could buy himself a bicycle. By the time he was 15, he was flipping burgers. In college, he worked at Top Notch Cleaners, Kuhn's Diamond Jewelry and LK Dairy. After he finished his degree, he worked for nearly 30 years as an IRS officer," Frank said of her father, who died in 2007. "By the time he retired, he had been called to Washington, D.C., to help write new tax code, and he was authorized to represent a taxpayer in court as a tax attorney. I was just so proud of what he made of himself, and I felt compelled to set up a scholarship that was truly designed for students from needy backgrounds -- one that prioritized significant need and work experience over extracurricular activities."

The Harold J. Frank Scholarship is available for students studying political science, education or business.

"My dad was a business major and a political science minor. He worked for the federal government and was passionate about politics. We drank coffee and talked politics, history and literature together regularly, sometimes for hours at a time," said Frank. "My dad was more likely to pour me a cup of coffee and ask my opinion about a current event than he was to take me shopping or to a ball game. Both my mom and I were teachers, and my dad had a good deal of respect for compassionate but tough educators."

Harold Frank's legacy of kindness and service continue to influence Frank's life.

"He taught me to respect myself and to respect my goals. He also taught me that there's little point in knowledge or education if you don't use it on behalf of others. He was a person of service; that's just how he was built. Nearly anywhere you went with him -- from the grocery store to the hardware store -- you were taking a chance on running into someone who had a tax question for him. We kids would groan and roll our eyes because we knew we'd be standing around waiting for 15 minutes or more, but it was a good lesson for us, too," Frank said. "We watched as he answered questions, gave out his work number and reassured people he'd help them. A lot of people are fearful of IRS officers, and he never wanted people to be afraid. He wanted to help them pay their back taxes, re-file, or whatever they needed to do, without fear. I've come to understand that he didn't really know how NOT to be of service. He taught us that we belong to the world, not the other way around."

Even in the classroom, her father's guidance affected what she loved about her own education, "classes with Rose Arnhold, Richard Leeson, Steven Trout and Carl Singleton," said Frank.

"The intellectual stimulation of some of my classes was just so great. I remember wondering why I couldn't have had more classes like that in high school. I felt at home at college, almost immediately."

As a graduate of FHSU, Frank also understands firsthand the effects scholarships can have on students' lives. "The impact of my scholarships was palpable," she said. "I was able to borrow a modest amount in loans and had paid off my loans within about six years of graduation."

In her new role at Fort Hays State University, Frank employs many lessons she learned from her father. As the coordinator of adjunct support and engagement for the Virtual College, she works to create an environment which helps adjunct instructors feel support and encouragement. She collaborates with offices across campus to streamline onboarding protocols, designs and teaches training classes, and maintains regular communication with adjunct faculty.

"The best moments are the personal phone conversations with adjuncts, wherein I can see that I am, hopefully, making their jobs better and easier," she said.

Scholarships such as the Harold J. Frank Memorial Scholarship are easy to establish through the FHSU Foundation. To learn how you can support the university and Tiger students, contact the FHSU Foundation at 785-628-5620 or email their office at foundation@fhsu.edu. To learn more about the FHSU Foundation, visit foundation.fhsu.edu.