Sternberg Museum offers free admission on Saturday to celebrate National Fossil Day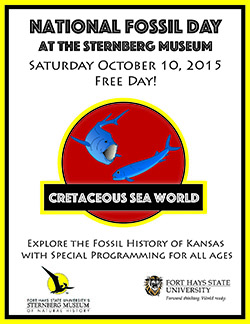 Hays, Kan. -- Discover fossils under the Dome with free admission to Fort Hays State University's Sternberg Museum of Natural History in celebration of National Fossil Day on Saturday, Oct. 10.
The museum will be open from 9 a.m. to 6 p.m. All-age programs will begin at 10 a.m. and go until 5 p.m.
"Join us as we explore the fossil history of Kansas, why animals have the color patterns that they do, how plants and animals adapt to different environments and how tracks and traces are made," said Dr. Laura Wilson, curator of fossil collections and assistant professor of geosciences.
Visitors will also have the chance to view the Discovery Room and see parts of the research collection.
For more information, contact Wilson at (785) 639-6192.