Annual FHSU Art Faculty exhibit opens Friday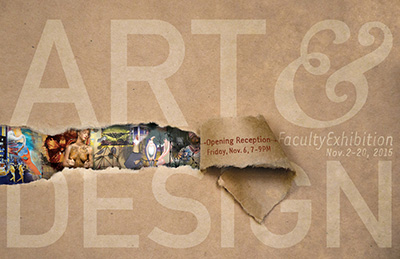 11/03/15 rg
HAYS, Kan. -- Fort Hays State University's 2015 Art and Design Faculty exhibition opening is scheduled from 7 to 9 p.m., Friday, Nov. 6, at the Moss-Thorns Gallery in Rarick Hall, room 102. The free exhibit is open to the public and will continue through Nov. 20. Regular gallery hours are Monday through Friday, 8 a.m. to 4:30 p.m.

"The show itself, as a grouping, encapsulizes the faculty research that identifies each one of our practices," said Joel Dugan, assistant professor of art and design. "It's a show that showcases the prominence of our faculty here at Fort Hays State. We have a really diverse and eclectic selection of processes of how we work,"

The exhibition also gives FHSU students insight into their professors' thought processes.

"I think in terms of the scope, it allows us to really share with the students the direction for how we all interpret each one of our particular fields," Dugan said. "Sometimes when you teach, as a mentor and a craftsman, you're teaching the students how to solve problems in ways that you found to be successful and impactful.

"It brings a lot of clarity to them," he added. "They can see your work, because what they start to realize is they get an idea how our focus is directed It kind of gives them an example of our teaching. This really is indicative of the mature and developed aesthetics of each one of the faculty members."

Full-time professors, adjunct professors, Virtual College professors, an international scholar and professors emeritus will have their work on display. The faculty exhibition showcases the concurrent work of all parts of the department in art and design -- drawing, painting, printmaking, photography, ceramics, graphic design, interior design and sculpture.

"It's wonderful to not only see the public, but your fellow university staff and faculty being able to come in and see and interact with it," Dugan said. "It just helps us to keep a cultural thread inside the community that really represents the strength of the arts."

The annual exhibition has been held since the gallery was established in 1981 with the completion of Rarick Hall. The Visual Arts Center Gallery was rededicated the Moss-Thorns Gallery of Art in 1987 in honor of two department chairs, Joel C. Moss (1946-73) and John C. Thorns Jr. (1973-90).