FHSU's Maxi making a maximum difference with Tiger team, Tiger Tots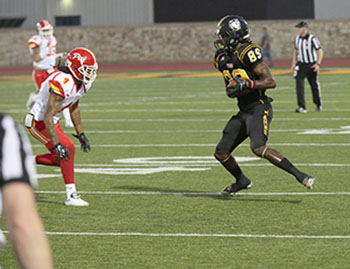 11/25/15
NOTE TO EDITORS, NEWS DIRECTORS: Print-quality photos of Maxi, and others,
By Diane Gasper-O'Brien
University Relations and Marketing
HAYS, Kan. -- A lot of folks look up to Isaiah Maxi, and it's not just because he stands 6 feet, 5 inches tall. An outgoing person who stands up for what he believes in, Maxi can talk to just about anyone.
But this college student has two particular audiences he gravitates to on the Fort Hays State University campus.
Five mornings a week, bright and early at 7:30, Maxi bends his lanky 190-pound frame into a chair more suited for 3- and 4-year-olds.
For a couple of hours, the handsome 21-year-old who sported a different hairdo at least six times this season -- and who friends simply call Maxi -- answers to "Mr. Maxi" to two dozen youngsters. He works as a student worker para professional in Tiger Tots, a child development center on the FHSU campus for 2 1/2- to 5-year-olds.
Later in the day, Maxi is just as comfortable injecting his teammates on the Tiger football team with positive maxims.
"He's a great leader," said sophomore Tyler Bacon, one of Maxi's roommates and also a Tiger football player. "He's always excited, tries to keep us up."
"He's one of our biggest leaders," Tiger Head Coach Chris Brown agreed. "He keeps the energy going and always keeps people's spirits up."
Brown, in his fifth year of rebuilding the FHSU football program, has led the Tigers into a post-season game for the first time in 20 years.
Fort Hays State, 8-3, will take on the University of Minnesota-Duluth at noon Dec. 5 in the Mineral Water Bowl in Excelsior Springs, Mo.
Brown has been known to say more than once that he recruits players who are not only good football players but "good, solid people" as well.
Some lead by example. Others are more vocal leaders. Maxi falls into the latter category. He once called a team meeting of Tiger players when he was a freshman.
Because of his outward exuberance, Maxi might appear to be a carefree, happy-go-lucky type of guy. But beneath the surface is a thoughtful young man who speaks with a wisdom that belies his 21 years.
"Oh, his fun and loving personality fits in very well with the young children," said Sara Stroup, director of Tiger Tots. "He too is a very respectful 21-year-old, way beyond his years. He's responsible and takes things seriously."
Maxi learned responsibility at a young age. His mother died of a heart attack when she was in her mid 30s, leaving his dad to raise four boys in Kansas City, Mo. Maxi, the youngest, was 6 at the time.
Maxi said his dad kept him involved in sports, which helped instill in him a competitive nature. But along the way, he also learned to always keep a positive outlook, no matter what happened.
"Everything happens for a reason," Maxi said. That positive attitude is what brought Maxi to Fort Hays State.
After helping Kansas City's Center High School football team to a 10-win season his senior year, Maxi was recruited by several MIAA teams from the same conference as Fort Hays State.
Maxi is no dummy. He checked out where the Tigers finished in the league standings since joining the MIAA in 2006 -- toward the bottom. Rather than shying away from Fort Hays State, though, Maxi was persuaded by Coach Brown's staff to be part of a rebuilding program. So, too, did his coach, Bryan DeLong, who played for the Tigers in the mid 1990s.
"I looked up to Coach DeLong a lot, and he said he thought Fort Hays State would be a good fit for me," Maxi said. "I wanted to be different and not necessarily go to the very best team but go somewhere where I could be part of the change for the good. This is the place I felt I could make the most difference."
Maxi's junior class, along with this year's senior class, has made a significant difference in the FHSU program. Under Brown's guidance, the Tigers have gone 6-5, 7-4 and 8-3 the past three years. The last time FHSU football recorded three consecutive winning seasons, this year's players were either in diapers or not even born.
Maxi -- third on the total yards charts for wide receivers that will be playing for the Tigers in the bowl game -- is part of that resurgence, having played in all 33 games of his career thus far. A win in the bowl game would give this year's team the school record for most wins in a season.
After the bowl game, Maxi will start preparing for his first-semester finals and continue to spend time helping make a difference in the lives of young people. In addition to his job at Tiger Tots, Maxi also officiates for Hays Recreation Commission youth sports.
"I want to make a difference," he said. "People value the difference more than the trend. I want to make the trend."
He said one of his most enjoyable jobs is the time spent at Tiger Tots, where the youngsters remind him of a pair of preschoolers near and dear to his heart. Maxi's dad remarried when Maxi was in high school, and he now is a big brother to a 4-year-old twin brother and sister.
"You know, they say being a good leader is something you learn," said Maxi, an organizational leadership major. "But in Tiger Tots, you can see a lot of natural leadership, even at that age. They will ask to help each other, without being told."
That's because they learn what they see, Stroup said, stressing that Maxi is one of the role models for those preschoolers.
Stroup said she has no doubt Maxi will be successful in life "because he knows how to treat people, and he makes good decisions."
"I love winning, and I love football," Maxi said. "But life isn't just about football. When I leave here, I want people to say 'Maxi was a good dude.' I want to have made a positive change in someone's life or a positive change in some program."
A lot of people on the FHSU campus would tell you he's 2-0, and that's a good start to a winning record.
Bowl game time is noon Dec. 5 vs. the University of Minnesota-Duluth. More information about the game and accompanying activities can be found at www.fhsu.edu/BowlBound.
11/25/15
NOTE TO EDITORS, NEWS DIRECTORS: Print-quality photos of Maxi, and others,