FHSU theatre shows disillusioned America in "Fifth of July"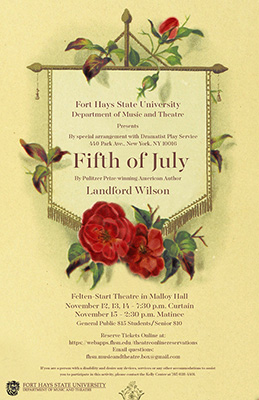 11/04/15 rr
HAYS, Kan. -- Just six weeks after its sell-out musical "Footloose," Fort Hays State University's music and theatre department will premiere its second theatre production, "The Fifth of July." Performances take place Thursday, Friday and Saturday, Nov. 12, Nov. 13 and Nov. 14 at 7:30 p.m., and Nov. 15 at 2:30 p.m. in Felten-Start Theatre in Malloy Hall.

"The Fifth of July" was written by one of the most influential American playwrights of the 20th century, Pulitzer Prize-winner Landford Wilson. Wilson explores the disillusionment in America following the Vietnam War by focusing on Ken Talley, a paraplegic Vietnam veteran who lives with his boyfriend, Jed, in his childhood home in rural Missouri in 1977.

Admission is $15 for general public and $10 for seniors and FHSU students. To reserve tickets, visit webapps.fhsu.edu/theatreonlinereservations.