Fantasy, frenzy, memory and joy come out to play in Hays Symphony's 2nd concert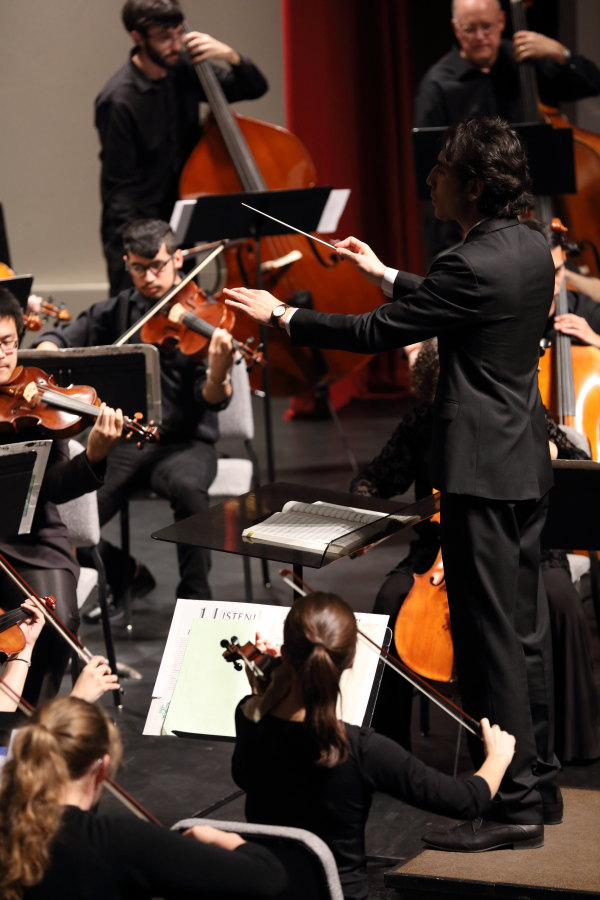 10/30/15
By Rachel Rayner
University Relations
HAYS, Kan. -- After a highly successful first concert, the Hays Symphony Orchestra will perform its second concert at 7:30 p.m. Saturday, Nov. 7, in the Beach/Schmidt Performing Arts Center on the Fort Hays State University campus.

Director Shah Sadikov, assistant professor of music at FHSU, said many audience members were surprised at how much they enjoyed the first concert.

"I had students who had never been to a symphony concert before say to me, 'It was amazing. I didn't know it would be like that'," he said.

The concert will begin with Felix Mendelssohn's "Hebrides Overture," ushering audiences into a world of maritime fantasy with undulating strings that are both foreboding and exciting. Stormy seas alternate with woodwind solos full of humble wonder, allowing the short piece to capture listeners' imaginations.

"It's magical," said Sadikov.

The second piece of the evening, "Knoxville: Summer 1915," by Samuel Barber, is also imaginative, but instead of going to fantastical lands, it shows familiar American scenes through the memories of a young boy. Soprano Dr. Ivalah Allen, assistant professor of music, will sing Barber's beautiful nostalgic melodies subtly laced with the boy's pain of coming to terms with the death of his family.

"It's a little boy telling the story, yet it feels like he is so mature," said Sadikov.

The third piece, "Poem (In the Memory of a Teacher)," by Tulkun Kurbanov, is a special piece for Sadikov. Sadikov's father, also a conductor, was a close friend of Kurbanov and commissioned and premiered the piece in 1977. Sadikov's father wrote a book about the piece in 1992. Sadikov and his father re-orchestrated the piece for the Hays Symphony.

"It will be the American premiere of the piece, and because it is a new version of it, in a way this will be the world premiere of it," said Sadikov.

"The concert will include a special surprise about Kurbanov's 'Poem,'" said Sadikov.

Sadikov decided to program "Poem" because Kurbanov used a dance theme from Ludwig van Beethoven's Symphony No. 7, which will close the concert.

Beethoven's Seventh celebrated the defeat of Napoleon and was premiered for Viennese audiences who had been under Napoleon's rule for nearly a decade. The piece is full of frenzied dance rhythms and pure joy, making it one of Beethoven's easiest pieces for audiences to enjoy.

The second movement is one of Beethoven's most famous works and is often played by itself. It is often played in memory of influential people, such as when Leonard Bernstein conducted it in honor of Herbert von Karajan, one of the most important conductors of the 20th century. Sadikov plans to reveal who the Hays Symphony's performance is dedicated to at the concert.

The second movement features a melody that is both mournful and full of life, the ideal representation of how deceased loved ones are remembered.

"From the beginning to the end, it is filled with dance rhythms and joy," said Sadikov. "We have so much energy and joy to give to the community."

The mission of the orchestra is to enrich the Hays area with high quality music and performing arts. Sadikov invites everyone to attend whether it is as part of a date night or just out of curiosity.

Unsure of what to wear to a concert?

"Just come however you want," said Sadikov. "As long as you won't get arrested for it."

Tickets are available at the door for $10 for adults, $5 for seniors and free for FHSU students with Tiger ID.