Former Tiger QB has fond memories of his post-season opportunity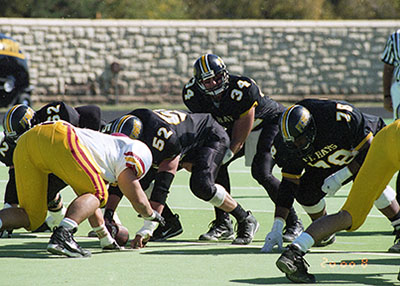 11/24/15 Bowl game special
NOTE TO EDITORS, NEWS DIRECTORS: Print-quality photos, including Behr,
By Diane Gasper-O'Brien
University Relations and Marketing
HAYS, Kan. -- If Shawn Behr could give players on this year's Fort Hays State University football team a piece of advice, it would be to enjoy this time heading into their season finale.
The 2015 FHSU football team qualified for post-season action for the first time in 20 years with its 8-3 record, and the Tigers were invited to represent the MIAA in the Mineral Water Bowl Dec. 5 in Excelsior Springs, Mo.
Game time is noon vs. the University of Minnesota-Duluth. More information about the game and accompanying activities can be found at www.fhsu.edu/BowlBound.
Behr, a native of Great Bend, was the starting quarterback on the last Tiger team to make it to post-season play, in 1995. He has been paying particular attention to Fort Hays State the past five years as the Tigers consistently improved under Head Coach Chris Brown.
"The cool thing about Coach Brown is that every single year, he's gotten one win better," said Behr, who lives in Great Bend with his wife, Desa, and their 7-year-old daughter, Kya. "I'm so glad to see he finally got over that hump."
After going 4-7 in his first year as the Tiger head coach in 2011, Brown's teams have climbed the ladder with season marks of 5-6, 6-5 and 7-4 before this year's efforts tied the school record for most wins in a season.
To reach the post-season is something special, said Behr, whose name is on numerous single-season and career top 10 lists for FHSU football. Behr, who still holds the all-time FHSU record for most passing touchdowns in a season with 34, had seven 300-yard passing games his magical senior season.
"It all culminates with the post-season," Behr said. "You work hard, and there are some monumental wins throughout the season. But once you finally make the post-season, it's such a great feeling."
The 1995 Tigers lost just one regular-season game and finished 8-2-2 overall after losing to Texas A&M-Kingsville in the first round of the NCAA Division II playoffs. Fort Hays State football is 0-3 in post-season action.
Behr would like to see that streak end this year, and he hopes to be on hand in person to see it happen.
His wife, a graduate of Kansas State University, is "a huge K-State fan," and West Virginia is playing the Wildcats in Manhattan the same day as the Tigers' bowl game.
"I'm hoping to drop off my wife and daughter in Manhattan and go on to the bowl game," Behr said. Excelsior Springs is just two and a half hours from Manhattan.
There is a tailgate party before the bowl game, sponsored by the FHSU Alumni Association. Online registration and more information about the tailgate events are available at
http://ow.ly/UZLgL
(case sensitive).
After graduating from Fort Hays State in 1996, Behr played one year of professional ball in Europe before returning home. He said he has a "lifetime of memories" from his senior season.
Behr, general manager of Marmie Ford-Lincoln auto dealership in Great Bend, hopes to reunite with some alumni at the bowl tailgate party, then hopefully settle in to watch a good game.
A victory in the bowl game not only would give the Tiger football program its first post-season win but also would set a school record for most victories in a season.
"At any rate, we just need to win it," Behr said. "We had a fantastic season in 1995, but it would have been even better to have won that last game."
11/24/15 Bowl game special
NOTE TO EDITORS, NEWS DIRECTORS: Print-quality photos, including Behr,