Albert, Cooper an exciting 1-2 punch for FHSU football team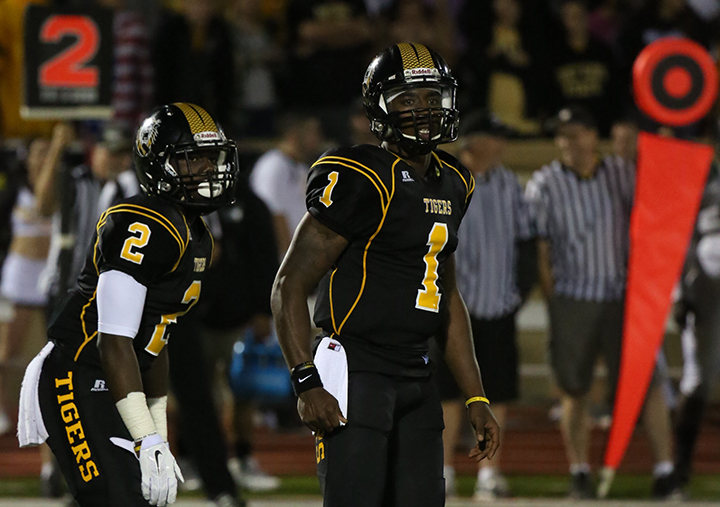 12/02/15

By Diane Gasper-O'Brien
University Relations and Marketing
HAYS, Kan. -- They both wanted the jersey bearing the number 1. The coach gave it to the senior, so the sophomore took No. 2.
It didn't matter what number they wore. Any way you look at it, all season long, Treveon Albert, Atlanta, Ga., senior, and Shaquille Cooper, Coral Gables, Fla., sophomore, have provided a 1-2 punch that helped propel the Fort Hays State University football team into post-season play for the first time in 20 years.
The Tigers will take on the University of Minnesota-Duluth at noon Saturday, Dec. 5, in the Mineral Water Bowl in Excelsior Springs, Mo. Both teams are 8-3, which ties Fort Hays State's record for most wins in a season.
Cooper, a 5-foot-10, 190-pound running back, is first on the FHSU team in rushing with a per-game of 127.8 yards. Albert, a 6-0, 195-pound quarterback, is second (105.5 average).
Tiger fans hope the dynamic duo that has given defenses fits all season has one more thrilling performance in it. A win over Minnesota-Duluth would set a record for most victories in a season.
The Tigers' No. 1 and 2 are on pace to set individual records, too.
Most likely sometime during the first quarter Saturday, Albert will set a new school record for total offense for quarterbacks. He needs just 10 yards to break the record, so that mark could fall in the Tigers' first series.
Considering he is averaging 257.7 total yards passing and rushing per game this season, Albert should become the first QB in Fort Hays State history to reach 8,000 yards in total offense. He enters the game with 7,966 total yards, sitting behind only Mike Garrison, who played from 2008-10. Albert also has a good shot at moving past Garrison into the No. 4 spot on the single-season total offense list.
Cooper is 213 yards shy of FHSU's single-season rushing record -- 1,169 yards set by Clint Bedore in 1993. Cooper's 1,406 all-purpose yards also are in the single-season top 10 at ninth, and with a good day Saturday, he should move several rungs up the ladder.
Considering neither No. 1 nor No. 2 are playing the same position they played in their first season at FHSU, it makes this year's production even more impressive.
Albert, who was recruited as a quarterback, played a good share of his first season at wide receiver in 2012. Cooper bounced back and forth between the offensive and defensive backfields that same year, then laid out of school two years before returning this year.
While Albert is in his third year calling signals for the Tigers, steadily improving each year, Cooper splashed back onto the scene in style, rushing for more than 100 yards six times this season, including two games of 200-plus yards. Cooper, who puts the scat in scatback, has caught 33 passes for 301 yards and five touchdowns to go along with his 1,406 yards and 14 TDs rushing.
He started the season with a bang, rushing for 163 and 263 yards, respectively, in his first two games.
Just when it looked like defenses figured out how to slow down Cooper, Albert perfected the zone read play, handing the ball off to Cooper and often pulling it back out and taking off downfield himself, making it tough for defenses to determine whether No. 1 or No. 2 had the ball. Albert's 1,161 yards rushing, coupled with Cooper's 1,406 on the ground, gave Fort Hays State its first pair of 1,000-yard rushers in a season for just the second time ever.
"I think it makes it tougher for our opponents," Cooper said. "They never know who has the ball."
After the top two running backs went down with injuries early in the season, Tiger coaches knew who they wanted to have the ball.
"Once we lost two running backs, it hindered us a little bit," Head Coach Chris Brown said. "But we didn't really think of Shaq as our No. 3 back anyway. We thought he was going to be a big part of what we did all along."
That also holds true for Albert, who was challenged for the starting QB spot every year. But persistence won out.
Each of his first three seasons, Albert had to wait his turn behind older players for that coveted No. 1 jersey. When Edward Smith used up his eligibility after the 2014 season, Albert asked Brown if he could switch from the No. 6 he had the past two years and grab No. 1 this year.
"Actually, I had always worn No. 5 when I was young, so that's why I took 6," Albert said. "But this year, I felt like I earned the chance and wanted to be a leader on the team. It has felt good wearing No. 1."
Cooper said he doesn't mind wearing No. 2 now, either. And no one can argue with the results.
For more information, contact FHSU Sports Information Director at rprickett@fhsu.edu or 785-628-5903.