FHSU goes to bowl game with a Tiger fan already in Excelsior Springs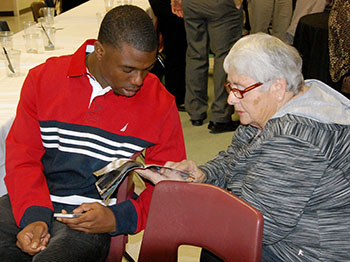 NOTE TO EDITORS, NEWS DIRECTORS: Print quality photos of Shannon Hall, one with Tiger running back Shaquille Cooper, are available for download through the Mineral Water link on the page at http://bigcat.fhsu.edu/currentevents/news_photos.php. The photos are under the names "Shaq fan" and "Tiger fan."
By Diane Gasper-O'Brien
University Relations and Marketing
EXCELSIOR SPRINGS, Mo. -- Although living in Missouri for two-thirds of her life, Shannon Hall said she still feels like a Kansan.

So Friday night, the 78-year-old native of Colby followed her normal routine the evening before a football game in this town of 11,000, about 30 miles northeast of metropolitan Kansas City.

After supper, Hall drove to Tiger Stadium and placed a cone at the south end zone to reserve a spot for her car for Saturday's game.

Hall -- known around these parts as Grandma Shannon -- is the No. 1 fan of the Excelsior Springs high school Tiger team and said she loves all sports.

She has been cheering on Tiger teams for more than 50 years, so imagine her excitement when she learned the Fort Hays State University Tigers would be playing in the 2015 Mineral Water Bowl. Fort Hays State, 8-3, will take on the University of Minnesota-Duluth, 8-3, in a noon kickoff.

"I was so thrilled," Hall said during Friday night's team banquet. "I feel connected to Hays. I'm a Kansas person, too."

Hall said her love of sports began as a youngster while growing up on a farm near Colby along with her identical twin sister, Sharon Dean.

Hall said she would have loved competing on the athletic field or court. But a bout with rheumatic fever when she was young "kind of crippled up my legs." Besides, Hall said, "the women sat on the bench back in my day, in the pep club cheering on the boys."
That didn't deter her love of sports, however.

Hall attends most home athletic competitions, cane in tow, and 10 years ago she started bringing the Excelsior Springs football players brownies and ice cream after Thursday practices. She just considers it her small contribution for the chance at more victories for the home team.

"You have to practice on Thursday if you want to play on Friday," Hall explained. "Kids love to eat, so if they know they're going to get something good to eat, they'll come to practice that day."

Hall sat and watched both college teams practice Friday before attending that night's banquet. She was a quick hit at the banquet with a Fort Hays State player who asked where she had gotten a game program she was paging through.

"You can have this one," Hall told Shaquille Cooper, FHSU's star running back, a sophomore from Coral Gables, Fla.

"His picture was in the program," Hall said.

Cooper, who has scored total 14 touchdowns rushing and receiving this season, will get a loud cheer from the south end zone if he scores Saturday. When the home team -- and she has designated Fort Hays State her home team -- scores, Hall rings a cowbell.

"And it's the real thing" Hall said. "It's from my farm back in Colby."

As Cooper thanked Hall for the program and left to join his team on the bus heading back to its hotel, Hall gave him the same piece of advice she tells all athletes.

"Play hard, play fair, and be nice to the referees," she said.

Hall said when it comes to the Mineral Water Bowl, she has always enjoyed browsing the program, getting to know a little about players from both teams. But this year is special. This is like Hall's home team.

This marks Fort Hays State's first trip to the Mineral Water Bowl, and the Tigers have a fan they hadn't bargained on.

"I've got to cheer for both teams," Hall said. "But I'm a Tiger fan, through and through."
Photo ID: Tiger running back Shaquille Cooper with Shannon Hall at Friday's banquet in Excelsior Springs for the FHSU football team.