Tiger guard tough to beat; Bohuslavsky helps lead FHSU to top national ranking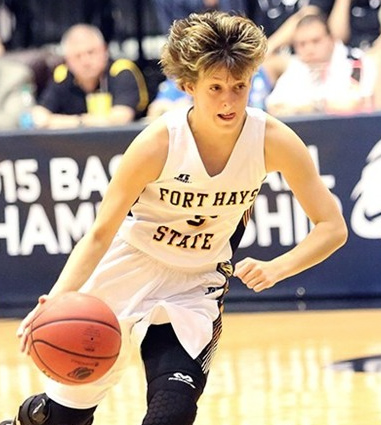 12/11/15
By Diane Gasper-O'Brien
University Relations and Marketing
HAYS, Kan. -- The Fort Hays State University women's basketball team is ranked first in the nation in NCAA Division II -- for the first time ever.

No one can probably tell her teammates how to deal with the pressure that goes along with that status better than Beth Bohuslavsky.

Bohuslavsky, a senior point guard from Dwight, Neb., is in her fourth year with the Tigers -- and third as a full-time starter -- so she is naturally relied on for leadership. Following a record-setting 30-4 season a year ago, Fort Hays State is off to an 8-0 start this season and the highest national ranking in program history.

But Bohuslavsky (pronounced Bo-SLAHV-skee) learned the art of winning basketball games long before coming to Hays. She was a four-year starter for her high school team in Seward, Neb., and was an integral part of a program that went 142-0 and claimed four state championships during her prep career.

"We didn't teach Beth how to win," said Tony Hobson, in his eighth year as head coach at Fort Hays State. "She was a winner when she got here. She's used to it."

The youngest of four siblings, Bohuslavsky started playing competitive basketball as a second-grader when her dad, who was coaching a fourth-grade girls' team in Dwight, asked her to ride along to practice one day.

The miniature guard with a name much longer than her 4-feet-and-a-few-inches frame was a natural on the court, and she has been dribbling and passing and driving to the basket ever since.

A multi-sport athlete who also played softball and ran track in high school, Bohuslavsky said she started getting burned out -- once. So she took a break, accepted a scholarship to Fort Hays State and has helped the FHSU women's team defend its court at Gross Memorial Coliseum like a real live Tiger.

The Tigers have lost at home only once in each of the last three seasons. This year, all but two of the team's six home games have been won by eight points or less, with the Tigers making a surge toward the end of the game.

The most exciting one came in last Saturday's showdown with then No. 1 ranked Emporia State University, an arch-rival that ended the Tigers' hopes of advancing to the Elite Eight last year. In the 2015 regional championship game at GMC, Emporia State beat FHSU 66-61. It was the Tigers' lone loss on their home court in 2014-15 in a game where Bohuslavsky was playing at only about 75 percent after injuring the posterior cruciate ligament in her right leg toward the end of the regular season.

The next time those two teams met, last Saturday, Bohuslavsky was back to 100 percent -- and then some.

She finished with a game-high 21 points and a 3-pointer and a key defensive play down the stretch that helped the No. 5 ranked Tigers hold on for a 71-70 upset victory that came just three days after beating another intrastate rival, Washburn University, 62-54. The win over ESU win, coupled with a couple of losses by teams ahead of Fort Hays State, projected the Tigers all the way to No. 1 in this week's NCAA D-II poll.

During her first three years at Fort Hays State, Bohuslavsky took pride in passing the ball into the middle to 6-foot, 4-inch Kate Lehman.

Lehman graduated last year as the No. 1 all-time leading rebounder and No. 2 scorer in FHSU women's basketball history, and someone had to pick up the slack this year.

Known more for her passing, Bohuslavsky, now 5-foot-6, leads the Tigers in scoring at 12.9 points a game this season and also averages a team-high 3.25 assists along with 3.5 rebounds and almost two steals a game.

"I'm more of a passing point guard than a shooting point guard," Bohuslavsky said. "I'll always remember a good pass more than a shot, but all our roles have changed this year."

Hobson thinks two other characteristics are Bohuslavsky's best qualities.

"The two things you cannot measure on Beth are her brain and her heart," he said. "She's passionate, she plays hard, and she's always prepared. She's the ultimate team player. When you have one of your best players who is totally unselfish and doesn't care who gets the recognition, that rubs off on the rest of the team."

Even after losing one of the best players in FHSU history to graduation last spring, the results have remained the same for the Tiger women thus far this season.

A major reason for that is the play and leadership of Bohuslavsky and her fellow senior teammates Paige Lunsford, Chelsea Mason and Elle Stein.

"A senior needs to step up, be a role model," Bohuslavsky said.

Another reason for the Tigers' success is the guy in charge of the program.

Hobson, like Bohuslavsky, came to Hays a proven winner. After seven years coaching in Nebraska at Hastings College, Hobson has posted a 140-71 record at Fort Hays State.
Hobson had two different teams ranked No. 1 in the nation, in the NAIA, during his time at Hastings, where he also won three NAIA national championships.

As far as the Tigers' latest accomplishment, he said that he would rather have the lofty ranking late in the season but that he'll take it.

"Any time you can do something that has never been done before, and it's a good thing, it's exciting to be involved with," Hobson said. "We might as well embrace it. It's good publicity for our school and our program."

Hobson, Bohuslavsky and the rest of the Tigers know that from here on out, "we're going to get everybody's best shot," Bohuslavsky said.

"Now it's up to us if we want to keep that spot," she added.

The Tigers will get their first chance at that task at 2 p.m. Saturday when the University of Nebraska-Kearney -- one of the schools that recruited Bohuslavsky out of high school -- comes to town.

Kearney enters the game on a two-game losing streak, but those losses were to Washburn and Emporia State, and the Lopers played both teams within 10 points. So Saturday's match-up promises to be another doozy.

"Coach has instilled in us that we need to take pride in our gym," Bohuslavsky said. "We just need to keep working, try to limit our mistakes and keep trusting each other."

After rehabbing her injured leg since last season, Bohuslavsky came into her senior year with even more zeal than before, knowing her competitive basketball playing days were numbered.

But even after the last horn has sounded, Bohuslavsky doesn't plan to stray far from the sport that has dominated her life for nearly 15 years. An elementary education major, Bohuslavsky will student teach next fall, then plans to serve as a graduate assistant under Hobson while working on her master's degree.

Her ultimate goal is to coach at the college level. But coaching will have to wait. A lot of games are left in the next few months before Bohuslavsky hangs up her sneakers.

A pesky ballhawk who drives opponents crazy with her tight defense, Bohuslavsky said she and her teammates are ready for the challenge.

"If we want to go a long ways, we're going to have to beat teams with defense," she said. "We just want to stick together, keep improving and go as far as we can this year."