Ganstrom exhibits Alice and ceramic queens at Ohio Craft Museum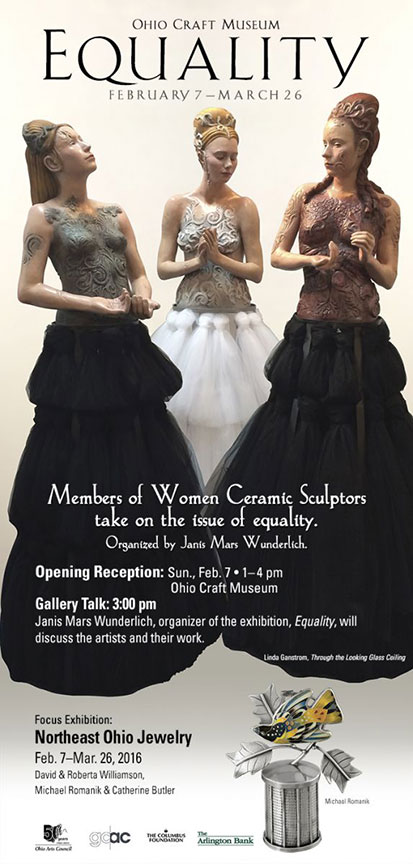 01/07/16 mbd
HAYS, Kan. -- While many were traveling to visit family over the holiday break, art and design professor Linda Ganstrom was delivering the White Queen, the Red Queen and Alice to Columbus, Ohio.

The three figures are part of a piece titled "Through the Looking Glass Ceiling: The Red Queen, The White Queen and Alice," which will be featured in "Equality," an exhibit at the Ohio Craft Museum.

Ganstrom is known for her figurative ceramic works, which combine clay and textiles into lifelike women wearing dramatic dresses.

Ganstrom's involvement in this show stemmed from her membership in Women Ceramics Sculptors - a group of women who support each other by looking for exhibition opportunities and proposing them to museums.

"Equality" was organized by fellow Women Ceramics Sculptors member Janis Mars Wunderlich, who currently teaches ceramic art classes at Ashland University in Ashland, Ohio. The exhibition explores equality both in the workplace and in life.

When discussing her inspiration for these pieces, Ganstrom references the novel "Through the Looking Glass" by Lewis Carroll.

"I was looking at 'Through the Looking Glass,' which is the follow up book to 'Alice in Wonderland,'" Ganstrom said.

"The Red Queen is very tempestuous and angry - not what we'd consider a great role model. The White Queen is very beautiful, but also very cold. Alice is looking to see what she can take from each one."

"Equality" will be on display at the Ohio Craft Museum from Feb. 7 to March 26. For additional information, visit www.ohiocraft.org.