Collins preaches living authentic life in Wednesday talk at Fort Hays State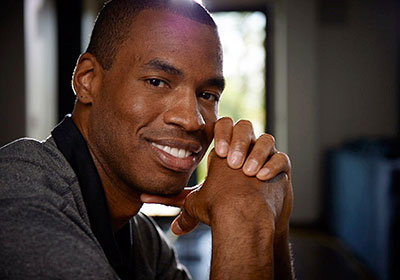 02/18/16
By Randy Gonzales
University Relations and Marketing
HAYS, Kan. -- When he was in junior high school, Jason Collins realized he was different from the other boys on his basketball team -- aside from the fact that he towered over them at 6 feet, 5 inches tall.

"I realized I had different feelings than some of the guys on the team," Collins said in an interview before speaking Wednesday night at Beach/Schmidt Performing Arts Center on the Fort Hays State University campus.

The event was sponsored by the Center for Student Involvement, the Department of Residential Life, the Gay-Straight Alliance and the University Activities Board.

"I played team sports all my life, and especially in junior high school when guys started talking about girls, those weren't the feelings I had," Collins said.

Collins, the first openly gay athlete while playing one of the four major professional team sports in America, talked about overcoming adversity and the importance of being authentic. He said he might be a trailblazer in a way, but there were others before him.

"I didn't start this path by myself," said Collins, who grew to nearly 7 feet tall. "There are many other people. I come from the world of sports, and there are many other LGBT athletes who have come before me, who helped make it easier for me to play in the NBA.

"I think it's a pay-it-forward kind of thing," he added. "Now I'm making someone else's life better, making it easier for them to live their authentic lives."

After an All-America career playing beside his twin brother, Jarron, at Stanford University, Collins was a first-round draft pick by the Houston Rockets in the 2001 NBA draft. He played for seven professional teams in a 13-year career which ended in 2014.

Collins opted to choose a more authentic life for himself in 2013. Before coming out, by not revealing that part of his life to others, he wondered if he would spend his days by himself in front of the TV each evening with his dog.

"I got to the point where I told my family. I told my friends," Collins said. "I knew at the end of the day I would have their support.

"I just reached a point in my life when I was ready to step forward. The game plan -- especially when it came to male professional athletes in the big four (sports) -- was to wait until you're retired a couple years and then make an announcement."

Collins decided not to wait until he retired. He had to decide whether to come forward while playing for the Washington Wizards during the 2012-13 season or wait until the off-season, when he would become a free agent. He chose the latter.

"Going into free agency, everybody knew this is who I am," Collins said.

Collins waited for a team to sign him. Eventually, the Brooklyn Nets -- who needed a big man -- signed him to a pair of 10-day contracts during the season.

"I played well, helped my team win some games. Then they ended up signing me for the rest of the season," said Collins, who was known as a physical center during his playing days.

These days, Collins works for the NBA and serves on the President's Council on Fitness, Sports and Nutrition. He also travels across the country giving talks about his life, his path and issues facing the LGBT community.

"Everyone understands we're better when we understand each other and we communicate with each other in an open format," Collins said. "I think it goes back to sharing stories. I think that's the most impactful way of allowing people's hearts and minds to change."

Collins, 37, said he finds young people, generally speaking, are more accepting of the LGBT community.

"Millennials and the young generation, it's not a big issue for them," Collins said. "However, the people who are in positions of power and authority are the older generation. They still are the gatekeepers as far as access. (Regarding) legislation, they still control things."

In Wednesday's talk, Collins regaled the audience with tales from his playing days, everything from the time he blocked Michael Jordan's shot when they were kids to the prevalence of trash talking in the NBA, and how it has evolved away from using slurs. He also talked about his family, about how he is eight minutes older than his brother, about how when it came time to choose a college to play for, the Kansas Jayhawks were interested -- but only in Jarron. They scratched KU off their list.

Collins told those assembled about how his dear grandmother passed away on Christmas Day, surrounded by her family, and how when he was growing up his grandmother was a strong woman with a belt in one hand and a Bible in the other.

Now, Collins -- who has been in a relationship for the past 2 1/2 years -- hopes to start a family of his own.

"I would like to be a dad," he said.

At the same time, Collins works to make it a better world for others in the LGBT community.

"With regards to the LGBT community we seek the same protections and basic civil rights as every other American in this country," he said.

Nathan Shepherd, a sophomore on the Fort Hays State football team, listened to Collins' talk. When asked how his teammates might react to someone coming forward like Collins did, Shepherd said it comes down to his coaches' philosophy.

"We preach family. That's the biggest thing for us," Shepherd said. "We don't look so much as our differences as our similarities."

Collins told the students they were like a team.

"As you further your education and continue your journey through life, you have to have the ability to connect with people from all different types of backgrounds," Collins said. "A team is made stronger when we all care about each other and can genuinely appreciate each other's differences.

"Whether it is a team or a community, it should be a place of inclusion and acceptance," he added. "I hope each and every one of you continue to celebrate diversity."