FHSU student makes a difference with poster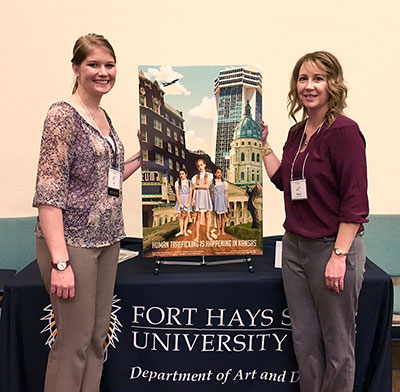 02/26/16 rg
HAYS, Kan. -- Some people live to be old and gray and wonder if they made a difference in this world.

Jill Herbert won't be one of those people. Herbert, a Fort Hays State University senior graphic design major from Wichita, already has made an impact.

As part of a fall semester competition that promotes awareness of social and political issues, one of Herbert's poster designs went viral after the contest winners were posted on the university's Facebook page. Her poster about human trafficking was one of four winning posters that, according to Facebook estimates, reached over 5.5 million users -- one million in the first 36 hours.

Herbert's work will be on display as part of the 2016 BFA Graphic Design Exhibition. The show's opening reception will take place 7 to 9 p.m. Friday, Feb. 26, in the Moss-Thorns Gallery of Art. The exhibition will run from Feb. 26 to March 11. Gallery hours are 8:30 a.m. to 4 p.m. Monday through Friday.

The Center for Combating Human Trafficking at Wichita State University asked to display Herbert's poster at last month's conference, where Herbert gave a speech.

"It was exciting, and Jill was really nervous," said Karrie Simpson Voth, interim chair of the Department of Art and Design at FHSU. "She did an amazing job presenting the poster."

After her speech, Herbert was selling her poster when she learned just how much it has touched at least one person.

"A girl came up to me and looked me in the eye and said, 'I'm a survivor, and I think this poster is beautiful,' " Herbert said. "It put the whole thing in perspective.

"She wanted to buy one, and she didn't have any cash. It was like, 'You take one.' It was really, really heartwarming in a tragic kind of way. It's unbelievable what these girls go through."

For the past eight years, Simpson Voth has had one of her classes partner with the American Democracy Project for the poster contest. The ADP works to ensure that higher education graduates are informed and involved citizens.

"Every year, it gets bigger and better," Simpson Voth said.

Students in last fall's class displayed their posters at the Memorial Union, where they were voted on. Each student produced five posters, of which three had to be on social or political issues. Dr. Chapman Rackaway, professor of political science at FHSU, speaks to each class. That helps students come up with topics for their posters.

"It's a great inter-disciplinary project," Simpson Voth said. "It's a great showcase all the way around for Fort Hays State."

To see all 60 posters, visit the FHSU Facebook photo gallery "2015 'Let Your Voice Be Heard!' poster competition" at http://ow.ly/U3rJx.

In addition to her human trafficking poster, Herbert designed posters ranging from water use during the California drought -- one of her three with a social or political topic -- to one for her brother's band. She had her brother's poster framed for him at Christmas.

Herbert, who is set to graduate in May with a degree in graphic design, recently came to understand what was her true passion -- the theater. She eventually hopes to move to Portland, Ore., to take acting classes. Herbert has been active in the theater at FHSU, and will play a leading role in its next production.

"I didn't realize I wanted to do that until this time last year," Herbert said.

Herbert also realized she likes designing posters.

"Doing these posters for this project, I realized I really like doing poster design, and I've even given thought to doing movie posters in the future, kind of combining the two worlds," she said.

Whatever lies in her future, the world of human trafficking will be something Herbert won't soon forget.

"You really don't think about that happening in your state," Herbert said. "That's one of the biggest reasons I wanted to do this poster -- nobody thinks about it."

With the attention Herbert's poster has received, that's not the case anymore.

Photo caption: Jill Herbert (left) presented her winning poster at the Center for Combating Human Trafficking conference in Wichita last month. With her is interim chair of Department of Art and Design Karrie Simpson Voth.