From one entrepreneur to budding entrepreneurs at Fort Hays State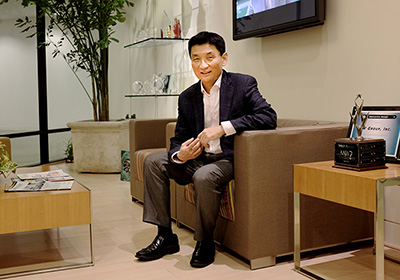 02/05/16

By Randy Gonzales
University Relations and Marketing
HAYS, Kan. -- A Japanese student once told Bill Imada that America is where dreams happen, and he was the perfect example of the American Dream.

Imada -- who was born in the poorest county in Oregon -- is the chairman and chief collaborations officer of the IW Group, a full-service communications firm he founded in 1990 that specializes in the growing multicultural markets in the United States.

From those humble beginnings in Ontario, Ore., Imada's company represents some of the biggest global and domestic brands, including Coca-Cola, McDonald's, Walmart Stores and Warner Bros. Pictures. He didn't succeed the first time in his entrepreneur ventures, but with a good support group encouraging him, Imada kept on trying.

Now, Imada is encouraging others to pursue the American Dream, to have that entrepreneurial spirit.

"I want people to believe an idea can come from anywhere," he said. "If they have an idea and want to see it through, they should try to do it."

Imada, who visited the Fort Hays State University campus Wednesday to share his knowledge and experience as part of the Entrepreneur Direct speaker series, ended the day meeting with students in McCartney Hall. He told those assembled that the next big thing could come from a student at a university such as FHSU.

"I really believe the big idea is going to come from small town, America. I really believe that," Imada said. "I want other people to believe it as well."

FHSU President Mirta M. Martin said Imada was able to see from his time on campus "all of the energy and work ethic of Fort Hays State."

Dr. Mark Bannister, dean of the College of Business and Entrepreneurship, said Imada's visit was a great opportunity for Fort Hays State students.

"His story of coming from a small, rural community, public, mid-size state university, rising to the level he has, is one that really resonates with our students," Bannister said.

Imada told the students the way people are encouraged to think might need to be re-examined. He said comments such as "let's not re-invent the wheel" and "think outside the box" are conversation stoppers, inhibiting ingenuity. Why should we think outside the box, he asks. Think inside the box first, he said, then step out.

"Think inside the box," Imada said. "Why not inspiration for America in a classroom like this?"

Peter Marston, a junior accounting major from Great Bend, liked how Imada recounted a time when American idioms were being discussed in one of his classes, and how one of the students didn't understand the phrase, "outside the box."

"A guy from India asked, 'Do you make the box? Go to Walmart and get it? When you're done with the box, what do you do with it?,' " Marston remembered Imada's telling of the story.

It's all part of the United States being part of the bigger world and how developing a connection with someone is important. Imada demonstrated that Wednesday, asking students simple questions to make a connection, one person to another.

"I thought it was interesting how he made connections with different people," Marston said. "He was able to use the information he learned about people's personal lives."

Imada still remembers something Sam Walton, the founder of Walmart, said: "Swim upstream." In other words, turn against conventional wisdom.

Imada pointed out we need to realize there is no longer an average American. Understand we are a nation of immigrants, that there are many faces of America, he said. People come here from all over the world with ideas and enthusiasm and passion, all seeking the American Dream.

"I know this isn't a popular topic, but we have immigrants from all over the world," Imada said. "They're all coming in for a better life."

Imada commended FHSU in its effort to foster creativity and entrepreneurship with the opening of Dane G. Hansen Scholarship Hall for entrepreneurial-minded students. The hall, set to open in fall 2016, will be one of a handful of such residence halls in the nation.

"The university providing the environment for that to happen is groundbreaking," Imada said. "I think it can be the model for the rest of the country.

"I think corporations embrace it, because I think they are looking for solutions," he added. "I think there is a great idea somewhere here. Providing that environment is going to help that idea."