Graphic design students bloom in 'CEREUS' exhibit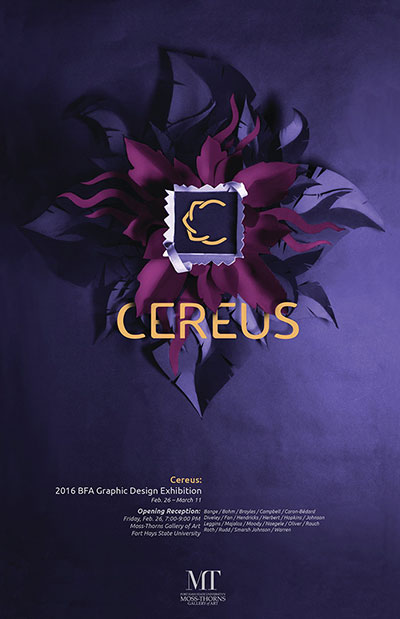 02/24/16 mbd
HAYS, Kan. -- When choosing a theme for Fort Hays State University's 2016 BFA Graphic Design Exhibition, this year's senior graphic design students agreed to a title that compares their class to a genus of flowering plants that blooms at night, called "CEREUS."

Art and Design Department Chair Karrie Simpson Voth said it was a fitting parallel.

"Our students spend the majority of their time in classes during the day, then really develop their skills -- and portfolios -- at night," Simpson Voth said. "When you see Rarick lit up at night, that's our students. They are the night-blooming flower."

On display will be works by 21 senior graphic design students, including Derek Rudd, who died unexpectedly last summer.

"Derek was a member of our family and an integral part of the class dynamic," Simpson Voth said. "It was a sudden and tragic event, which shaped his classmates' time in the program."

The exhibition will showcase the students' talents in print, packaging and multimedia assignments completed under the direction of Simpson Voth and Chaiwat Thumsujarit, professors of art and design.

The show's opening reception will take place 7-9 p.m. Friday, Feb. 26 in the Moss-Thorns Gallery of Art. Appetizers, dessert and refreshments will be served.

The exhibition will run from Feb. 26 to March 11. Gallery hours are 8:30 a.m. to 4 p.m. Monday through Friday.