Like father, like son for Tiger basketball team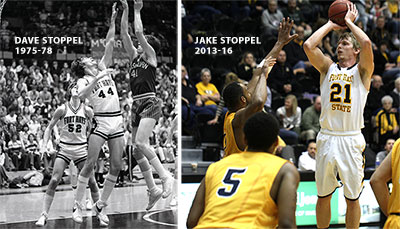 02/23/16
By Diane Gasper-O'Brien
FHSU University Relations and Marketing
HAYS, Kan. - Much like so many other games the past three years, Jake Stoppel greeted family members and friends following Saturday's 79-65 Tiger victory at Gross Memorial Coliseum.

But this was different.

This just might have been the last time playing on the GMC floor for the Fort Hays State University senior from Wilson.

If the Tigers finish out of the top four in a clogged MIAA race, they will host a first-round game Tuesday, and Jake and the other seniors will have one more game on their home floor.

But if they have their way, they will earn one of those coveted top-four spots, which will give them a first-round bye and an assured ticket to the quarterfinals of the MIAA league tournament in Kansas City, Mo. Two victories this week on a road trip to Oklahoma would assure the Tigers of a top-four seed for the tourney, set for March 3-6.

That would give FHSU another couple days of rest and a better chance to meet its ultimate goal of finishing high in the MIAA tournament and helping secure a spot in the regional tournament.

"As a senior, you want to go as far as you can," Jake said.

Jake is one of four players averaging in double figures this year, much like another Stoppel who wore the black and gold of FHSU 40 years ago.

Much like his dad, Dave, who played for the Tigers from 1975-78, Jake is a quiet leader.

Just like the same 6-foot, 5-inch Tiger forward of the '70s, Jake is one of the most consistent players who also ranks as one of the team's top shooters percentage-wise.

Dave Stoppel led the Tigers in scoring his junior year in 1976-77 and recorded the team's top field-goal percentage both his sophomore (.569) and senior (.548) seasons.

His youngest son now leads this year's team with an .852 free-throw percentage and is shooting 80 percent for his career, sixth best in FHSU history.

If Saturday was indeed the final game at GMC for Jake, he went out with a bang. He scored 16 points, including a perfect 4-for-4 effort at the free-throw line, and grabbed five rebounds.

"He's been very clutch at the foul line; he's made some critical free throws for us," FHSU Coach Mark Johnson said. "If there was anyone I'd want up there at the line late in the game, it would be Jake."

It's the same type of game Johnson has come to expect from Jake from the first time he brought him to FHSU. Johnson had his eye on Jake when he averaged 27 points and 11 rebounds a game his senior year at Wilson High School in 2011-12.

But with Wilson being a small Class 1A school, Johnson wanted to see how Jake's game transitioned to the college level, and Jake went off to play nearly four hours away from home at Neosho Community College in Chanute.

Johnson liked what he saw when Jake averaged 16 points and seven rebounds a game his freshman year at Neosho, and it didn't take Johnson long to make Jake a Tiger.

Thus began Jake's journey through the FHSU program that saw him start all but six of 76 games thus far while increasing his scoring average each year.

"You never have to worry about Jake's effort," Johnson said. "He plays hard and competes and really gets a lot out of his size. He goes up against a lot of guys a lot bigger and taller night in and night out."

While Dave played at about 205 pounds, Jake is listed at 215, and that little bit of extra weight comes in handy.

"Jake is more athletic than a lot of players his size," Johnson said. "He moves so well laterally for someone his size."

Johnson also points to a couple of other attributes as some of Jake's main keys to success.

"His mindset and his toughness …" Johnson said. "He never gives up."

Jake has excelled in the classroom as well. An academic honor student, he is set to graduate with a degree in agronomy in December, following a summer internship at a custom application and agronomy service in Lyons.

For now though, he is concentrating on a successful run down the stretch of his final basketball season, which will be witnessed by a former Tiger standout.

Dave Stoppel now farms near Wilson, where he and his wife, Stephanie, raised their three children who all became all-staters in high school. Oldest son Ryan and Jake earned that honor in basketball, while their sister, Kylie -- an FHSU nursing student -- did the same in volleyball.

Both older siblings played college ball, and now the Stoppel family enjoys following youngest son and brother.

No matter what the outcome on the court the next few weeks, Jake said he will take with him fond memories of his days on the court as a Tiger.

"The camaraderie you get on a team is probably my favorite memory," he said. "You meet a lot of people on other teams and people who follow you because they like the sport."


Photo caption: (pic 1) Dave Stoppel was a scoring leader and rebounder for the Fort Hays State University men's basketball team in the mid to late 1970s; (pic 2) Jake Stoppel is a three-year starter for this year's Tigers.