FHSU graduate returns to alma mater as Kansas Teacher of the Year 2016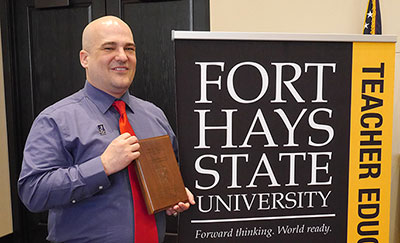 03/04/16
By Diane Gasper-O'Brien
University Relations and Marketing
HAYS, Kan. -- It's not uncommon for students to change their majors a time or two, or even more, over the course of their college careers.

The same holds true in the real world.

A change in professions led Justin Coffey to pursue a graduate degree through Fort Hays State University's Virtual College, and now he is traveling the state giving presentations with a new title -- Kansas Teacher of the Year.

Coffey, a 2011 FHSU graduate with a Master of Science in Education degree through its Transition to Teaching Program, is a high school math teacher in Dodge City. He and his team of regional teachers of the year are spending the spring semester speaking to teachers in Kansas school districts and colleges and universities.

They were on the FHSU campus this week, sharing their passion for teaching.

Coffey, Kansas Teacher of the Year for 2016, held the attention of both students and instructors at his table as they visited during a luncheon that preceded the KTOY team's presentation.

"This gave some great insight into teaching," said Nick Wolfe, an FHSU freshman from Hays. "I can't wait to get involved in the teaching program."

Coincidentally, Wolfe came to Fort Hays State as a physics major but decided to change his major to education after his work study position ended up being at a preschool.

"I love spending time with those little kids and watching them learn," Wolfe said. "The thing that lights up my life is working with kids. I want to be an inspiration like so many teachers have been to me."

Then, he's on the right track of becoming a teacher, Coffey said.

"Going into college I thought, 'There's no way I want to be a teacher; they don't get paid enough,' " Coffey said. "It took me many years to realize that it's not all about the money. Helping student make good decisions and finding the right path means much more than making a couple of extra bucks."

Coffey grew up in Omaha, Neb., and met his wife, Amanda, while attending the University of Wyoming. An education major, Amanda's first teaching job ended up being in Dodge City, where she has taught elementary school since 2003.

Coffey, who was managing a retail store in Dodge City, said he wasn't really happy with his job and would notice how invigorated his wife would be after school, even after a long day at work.

"She thought I should try teaching," said Coffey, who checked into the Transition to Teaching Program at Fort Hays State.

The mission of the program, referred to as T2T, is "designed to fill secondary teaching vacancies in school districts through an alternate route to teacher licensure." It allows an individual with a bachelor's degree in a content area approved by the Kansas State Department of Education to obtain a teaching license through a two-year program.

The T2T program that began with four participants in 2003-04 is booming at Fort Hays State. It brought in 85 new students in the fall of 2014 and added 95 more last fall.

"It's grown dramatically the last couple of years," said Dr. Jim Barrett, chair of Advanced Education Programs at FHSU. "It helps a lot of people. It's a great program."

And now FHSU's T2T program can boast of having a Kansas Teacher of the Year.

Coffey was able to immediately begin teaching at Dodge City High School while working on his degree through FHSU's Virtual College, graduating in 2011.

He has never regretted that decision.

"Through my work experience in sales, I found that my favorite component was hiring and training new employees," Coffey said. "I knew I wanted to help people and make an impact. As a teacher, you are able to build a special relationship with a lot of human beings. With my new-found passion, hopefully I can make an impact."

This marks the second consecutive year that a Fort Hays State graduate has been named Kansas Teacher of the Year, a program in its 25th year and sponsored by the Kansas State Department of Education. Shannon Ralph, also from the Dodge City school district, was the 2015 KTOY winner.

Teachers are nominated from their local school districts, and two teachers are chosen to represent each of four regions across the state. The teacher of the year is picked from that group of eight regional finalists. This year's nomination pool totaled 105 candidates.

Each regional winner receives $2,000, and as the KTOY winner, Coffey also received $4,000, free enrollment for life at several Kansas universities and the use of a car from one of the sponsors, Enterprise Rent-A-Car.

The KTOY team will give up to 30 presentations across the state this semester, and Coffey also makes trips around the state for professional development in Kansas school districts.

Faculty members from the Teacher Education Department and Advanced Education Programs Department, as well as several students, attended the KTOY presentation.

"It was nice to see so many staff there," said Nona Mason, a kindergarten teacher at West Elementary School in Goodland. "It's great to see that kind of support."

"That's part of what makes Fort Hays State's program so great," Coffey said, "that kind of support."