FHSU prepares Hispanic students for college with Hispanic College Institute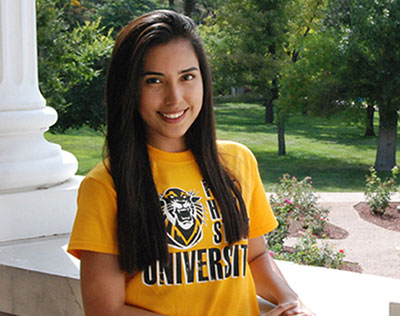 03/04/16
By Randy Gonzales
University Relations and Marketing
HAYS, Kan. - Dr. Mirta M. Martin knows all too well Hispanic students often are ill prepared for college. She was in that position herself 33 years ago.

Now, Martin -- the president of Fort Hays State University -- hopes to help prepare this generation's Hispanic and Latino students for college.

Fort Hays State's inaugural Hispanic College Institute for high school sophomores (class of 2018) and juniors (class of 2017) is scheduled for June 22-25 on the FHSU campus. The institute is a free, four-day residential program that prepares Hispanic students for success in higher education.

Students can visit www.fhsu.edu/hci/Academics for more information or to apply online for the Hispanic College Institute. Applications are being accepted until April 1. All applicants will receive an email notification sometime in April, informing them of their acceptance status. FHSU's goal is to have 150 students participate.

Brett Bruner, director of Transition and Student Conduct at FHSU, is in charge of coordinating the programming.

"It's really a jam-packed four days for the students," Bruner said. "The students will be going through various workshops. They will focus on topics like public speaking, social media, understanding foundations to succeed in college, how to apply to college and understanding the ACT process."

Students also will meet Hispanic leaders who have been successful, providing inspiration as well as networking opportunities. Participants also will experience an opportunity to break up into small groups and discuss issues in the Hispanic and Latino communities and provide solutions.

On the Friday of that week, students will participate in a math and technology day. Martin said a Fort Hays State graduate who is with NASA's Orion project -- an initiative for deep-space exploration -- is slated to speak on that day.

"It will be incredible," Martin said.

The final day will feature a brunch, with parents invited to help celebrate the accomplishments of their students, Bruner said.

The HCI showcases the best FHSU has to offer. It's an opportunity for Fort Hays State to feel like home.

"The HCI puts a hook onto the students that says to them -- and to the parents -- Fort Hays State is an institution that welcomes you, is ready and willing to open its arms to educate you," Martin said. "It's an institution where your values are the values of our institution.

"The sense of family, the sense of integrity, the sense of honor, the sense of the work ethic -- more so than any other institution, we are uniquely positioned to educate that generation that has come to the United States seeking their American Dream, but do not know how to achieve it."

Martin's American Dream started with her grandmother entrusting her with a priest at Duke University, taking a leap of faith. And now, Martin is asking parents to do as her grandmother did all those years ago. At Sunday's Student Recognition Program at Dodge City and Garden City, Martin met with parents of Hispanic students. The children for many of those parents will be first-generation college students.

"These parents, it was touching, because 33 years after, they're saying to me what my grandmother was saying to the priest at Duke University when she let me go: 'This is the light of my life. This is the light of my eyes. She is now your responsibility,' " Martin said. "Thirty-three years later, these parents, in tears, in Spanish, are saying to me, 'I'm going to turn my (child) over to you because I know he or she will be your son or daughter.'

"I am very honored. I am very touched at various levels," she added. "One, listening to them, I was listening to my grandmother. She gave me freedom."

Born in Havana, Cuba, Martin left her native country as a child with her grandmother and eventually immigrated to the United States. But when it came time for Martin to go to college, her grandmother was reluctant to let go.

"It was not until she found somebody who would protect me," Martin said. "That's what I saw in these parents. I am honored. I understand first-hand that these kids are these parents' most precious possessions. When they offer us the privilege to turn them over to us they become my children, they become my most precious possession. They're not turning them over to a president. They're turning them over to a mother."

Martin, at the urging of then-Virginia Gov. Tim Kane, created a state-wide Hispanic College Institute when she worked in higher education in Virginia. With the Hispanic population growing in Kansas, Martin's goal was to do the same at FHSU. But Martin doesn't want to stop with just the HCI.

"My goal and dream is that the HCI will be the template for many others," Martin said. "If you're a first-generation student, it doesn't matter whether you're purple, green or white. You're a first-generation student.

"There's no reason why we couldn't have an African American College Institute," she added. "There's no reason we couldn't have a Farmers College Institute. They don't need to feel they are alone."