FHSU programs help student see the world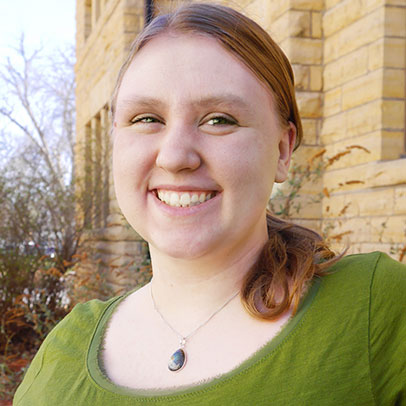 03/11/16
By Randy Gonzales
University Relations and Marketing
Hays, Kan. -- It's Ecuador this week, then Finland for a year, Alaska and Canada last year. Travel opportunities offered by Fort Hays State University have made a world of difference for Lecompton junior Julie Clement.

"I think (FHSU has) been a good choice for me based on what I wanted to do, because I really wanted to study abroad," Clement said. "It gives me a different view of the world. Growing up in a little town in Kansas, you really don't get an outside view. Then you travel somewhere -- it entirely opens up what I can see."

Clement is spending her spring break as part of a Fort Hays State student group visiting Ecuador and the Galapagos Islands, a different world from Lecompton, Kansas -- population 630.

Seven FHSU students and David Levering, education director at Sternberg Museum of Natural History, departed Hays late Wednesday night for Quito, the capital city of Ecuador. The group's plans included biking down a volcano, through a rain forest and eventually reaching a desert. Along the way, they plan to stop at a butterfly farm.

Then it's on to the Galapagos Islands, where naturalist Charles Darwin studied several species of life. Clement said she was looking forward to seeing the wildlife, especially the giant sea tortoises.

"I can't really fathom giant tortoises," Clement said.

As part of the National Student Exchange program, Clement took classes during fall semester 2014 in Fairbanks, Alaska, at the University of Alaska-Fairbanks. She then was in Canada in spring 2015, studying at Memorial University of Newfoundland's Grenfell campus in Corner Brook. She spent her spring break in 2014 helping build homes in Peru.

In September 2016, Clement begins classes in Joensuu, Finland, part of International Student Exchange Programs. She will study at the University of Eastern Finland while paying FHSU tuition. Clement is busy trying to learn Finnish; she has five language learning apps on her phone.

"I like Hays a lot, but I can go elsewhere and still pay this awesomely affordable tuition," Clement said. "I like to travel; they say you travel most in college. Why not, since I'm getting college credit for traveling."

Clement will receive one hour of geosciences credit for her trip to Ecuador. The trip is not just for science majors.

"They're not all studying to get science degrees, but they all have a common thread of understanding the significance of this place," said Levering, who will lead a trip to the Galapagos Islands in 2017 for non-FHSU students.

Clement traveled with her family when she was younger, and her father, Scot, moved around a lot when he was a child. Clement and her dad took a trip to Paris, Barcelona and Madrid the summer before her senior year in high school through the school's international club. Clement also traveled to Florida as part of the school band during her freshman year in high school. While her father doesn't object to Clement's globe-hopping, her mom, Gina, isn't so sure.

"My dad thinks it's awesome," Clement said. "My mom, on the other hand, not necessarily a fan of me going places. She would much rather I stay in Kansas, but she's accepted I'm going to travel."

Clement, a physics major for two years before switching to history, isn't sure of her future plans after graduation. She knows what she would like to do.

"I know I want to continue traveling," she said. "I love taking pictures, and I love history. It would be awesome to go to all these historical places and take pictures and tell people about them."

For now, it's Ecuador and the Galapagos Islands. After Finland, what country is next on Clement's bucket list?

She laughed. "All of them," she said without hesitation.