Fort Hays State custodian doubles as a Special Olympics coach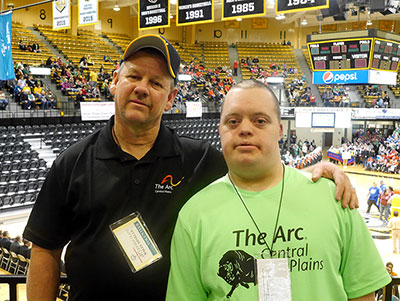 03/21/16
By Diane Gasper-O'Brien
University Relations and Marketing

HAYS, Kan. -- Wally Minkler occasionally works weekends at his campus job, setting up for various special events in Fort Hays State University's Gross Memorial Coliseum.

There was a special event on campus this past weekend, and Wally -- as usual, wearing a baseball cap -- was easy to spot walking around GMC.

But he wasn't on the clock this time. An FHSU custodian by day, Wally was wearing a hat of a different kind on this weekend.

As head coach of a basketball team for the Arc of Central Plains, Wally helped his Buffalo team place third in its division at the State Basketball Tournament for Special Olympics Kansas.

Special Olympics is a global organization that provides individuals with intellectual disabilities the chance to participate in athletics.

What made this particular activity in GMC and the gyms in adjacent Cunningham Hall even more special for Wally was that his stepson, Tyler Powers, is one of the players on his team.

Coincidentally, it's because of Tyler, a 21-year-old who was born with Down syndrome, that Wally wound up in Hays and eventually at Fort Hays State.

Wally -- living in Phillipsburg with his wife, Trina, and her son, Tyler -- remembered how much he enjoyed competing in Special Olympic events as a youngster growing up in Smith Center.

Phillipsburg doesn't have a Special Olympics program, so when Tyler graduated from high school there in 2013, the Minklers started looking for employment in Hays.

"We knew they had a lot of things going on here with Special Olympics," Trina said. "We thought Tyler would really enjoy that."

Wally learned last year that Fort Hays State was looking for a night custodian in Cunningham Hall, and he successfully sought the job. Then a few months later a daytime custodial position in GMC opened up.

Now, Wally has time to coach Tyler in the evenings, something he said he enjoys whether they win or lose.

"I try to tell my team to go do your best and have fun," Wally said. "Whatever place you get, I'm happy with it."

Wally was active on the sidelines, giving his players hand signals where to stand on defense.

Sometimes a play would make Wally wince, but he was quick to give his players a handshake as they came out of the game.

"It takes a very special person to coach for Special Olympics," said Beth Pfeifer, director of the Arc of Central Plains. "To be able to work with them and be patient with them is a gift."

Part of that comes natural for Wally, who said he "likes all the kids, and I think they all like me."

"Except my stepson," he said, chuckling. "Sometimes he doesn't like me to tell him what to do."

Tyler was the ultimate picture of a good teammate though Friday, even when his team lost its second game. He nodded at teammates as they came off the floor, some hanging their heads.

Their spirits were lifted the next day, however, when they collected their medals.

Keith Bieker, Wally's custodial supervisor, also showed up to offer support and following one of the games, he met Wally's team just outside the upper-level concession stand where the Arc of Central Plains had set up camp for the tournament.

"Wally is a really good worker here," Keith said, "but what he does with these kids is really something. It takes a special person to do that."