Sternberg's Darwin Day evolves into success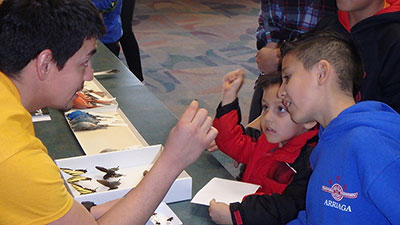 03/14/16
HAYS, Kan. -- The recent Darwin Day celebration was another huge success for Fort Hays State University's Sternberg Museum of Natural History and the Hays community. With almost 800 people in attendance for this year's event, museum staff and graduate students were able to show off spectacular natural history specimens not normally on display.

This year's theme was mate selection, so brightly colored and flamboyantly adorned animals took center stage. Mate selection, or more accurately termed Sexual Selection, is part of Charles Darwin's Theory of Natural Selection. Sexual Selection explains how members of one sex selecting members of the opposite sex with whom to mate can result in evolutionary change.

"Male peacocks, birds of paradise, and cardinals with bright plumage are great examples among birds," Curator of Paleontology Dr. Laura Wilson said. "Deer and elk with antlers during the mating season are classic examples among mammals."

Special displays (with accompanying scientists) were stationed around the museum with pairs of male and female animals that illustrate mate selection. One station had examples of reptiles, insects, mammals and birds that show variation between males and females. These were contrasted with some animals (like ground squirrels) in which males and females all look the same. Ground squirrels are all colored for camouflage. Another station provided examples of animals who fight for mates (like deer and stag beetles) versus animals who attract mates with bright displays (like mallard ducks and some lizard species). There was even a station with rhinoceros and fish fossils, explaining some of the difficulties with determining sex in extinct animals.

In addition to new and different animals on display, there were also activities and arts and crafts for some of the younger visitors.

"Encouraging creativity can be just as -- if not more -- important as teaching a lesson in the museum experience," Wilson said. "So we try to provide programming to stimulate a variety of audiences in a variety of ways."

Museum visitors were not the only ones able to learn and benefit from Darwin Day. Twelve FHSU graduate students from the departments of Geosciences and Biological Sciences dedicated their time to run stations and activities.

"The opportunity for the general public to interact with science students benefits everyone," said David Levering, education director at the museum. "The students have the opportunity to practice communicating science and develop museum education skills. The museum visitors benefit from their knowledge and get to see and touch new things."

The Darwin Day celebration is one of the annual "free days" offered by Sternberg Museum, when admission fees are waived for all visitors.

"Free days are important to reach out to the whole community with the opportunity to see the museum and enjoy special events," said Dr. Reese Barrick, Director of Sternberg Museum.

Numbers don't lie when it comes to judging the impact and success of the day. Barrick called this year's celebration "wildly successful for us, exhibited by the nearly 800 people who showed up to our event."