Action-packed weekend at Fort Hays State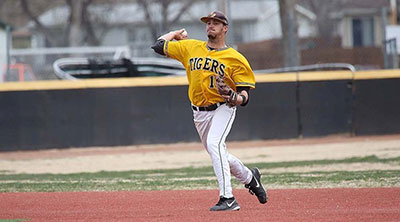 04/13/16 rlg/dgo

By University Relations and Marketing
HAYS, Kan. - Spring is always a busy time on campus, but this will be an action-packed weekend at Fort Hays State University with a little bit of something for everyone. However, Mother Nature could have a say in the location of some of those events.

Three main events involving the general public are the 50th annual Fort Hays State Rodeo, the Tigers' spring football game and Pack the Park Night for the FHSU baseball team.

The Tiger baseball team still will celebrate Pack the Park Night Friday as originally planned, although the schedule for the three-game homestand with Missouri Western State University has been changed. Games have been moved up because of rain in the forecast for Saturday and Sunday.

Baseball action will begin today with a 7 p.m. single game. Friday's original Pack the Park single game has been changed to a doubleheader beginning at 3 p.m. All three contests will be nine-inning games. Friday's specials will remain intact. Admission is $3 for adults and $1 for children. Hamburgers, brats and hot dogs will be $2, and all drinks are $1.50.

The Tigers' spring football game, free to the public, also might be moved indoors. The scrimmage will have a new look this year. Spring Kickoff 2016 is being hosted by FHSU's student alumni organization, Tigers 4Ever.

Start time is noon at Lewis Field Stadium, with gates opening at 11:30 a.m. In case of inclement weather, the game and associated fun activities will be moved indoors to the Bickle-Schmidt Training Facility, where seating will be provided along the track adjacent to the field. The decision whether the scrimmage will be indoors or out could be made as late as Saturday morning.

The Tiger Debs dance team and FHSU cheerleaders will attend the scrimmage, which not only will give fans a preview of the 2016 football team but will showcase players from last year's team that advanced to post-season for the first time in 20 years.

Activities planned after the scrimmage are a football skills challenge, catching a punt from a JUGS football gun and attempting to catch a rubber chicken from a slingshot. Free T-shirts also will be shot into the crowd. After the postgame activities, the first 200 fans can enjoy a free hamburger feed, courtesy of Tigers4Ever, and players will be available to sign autographs.

The three-day rodeo, held at Doug Philip Arena, annually brings approximately 500 competitors and 3,000 people in all to Hays, beginning today. The arena is located on Golf Course Road, a half mile west of U.S. Highway 183 Alternate. Friday and Saturday's public performances are both set for 7 p.m. On Sunday, there will be a cowboy church service at the arena at 10 a.m., followed by the final rodeo performance at 1 p.m. The first-ever college rodeo bullfights will follow Friday and Saturday nights' competitions.

Ticket prices for the rodeo are $8 for adults in advance or $12 at the gate. Children are $5 in advance and $8 at the gate. FHSU students are admitted free with their Tiger ID card. Tickets can be purchased at three different locations in Hays: the Student Service Center in FHSU's Memorial Union; Orscheln Farm & Home, 2900 Broadway Ave.; and Vanderbilt's, 2704 Vine.

Various memorabilia will be for sale at the rodeo, including T-shirts and sweatshirts. Also for sale will be a limited number of 50th anniversary commemorative belt buckles, created by Tobias Flores, FHSU associate professor of art and design, with each engraved with its own number. Belt buckles No. 1 and 50 will be auctioned off at Saturday's alumni banquet.
Photo caption: FHSU junior shortstop Nick Hammeke. Photo by Ryan Prickett.