Annual FHSU Technology Education Fair set for Friday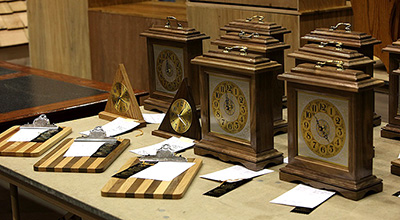 04/26/16 dgo
HAYS, Kan. - Students from approximately 30 schools from around the state will converge on Fort Hays State University's Gross Memorial Coliseum Friday for the 57th annual Western Kansas Technology Education Fair.

Most will bring with them projects they have been working on throughout the school year.

Students in FHSU's Technology and Engineering Educators Collegiate Association run the entire fair. They volunteer in different aspects of the event, such as project placement, assisting judges, helping tag ribbons and medals to winning entries, and running various contests.

"It's so large, we absolutely have to have our students volunteer to help," said Kim Stewart, chair of the Department of Applied Technology. "They do a great job of volunteering. They realize this is a really big event, not only for our department, but a big event for the middle schoolers and high schoolers and their teachers to be able to bring projects to have evaluated by judges."

The fair includes several mediums of technology education, including woods, metals, drafting and multi-pupil projects. Contests include communication, metric 500 racing, tech challenge (quiz bowl) and problem solving.

Students come from as far away as Dexter in southeast Kansas - a four-hour trip from Hays - to participate.

"This is the only project- and contest-based technology fair that I know of," Stewart said. "Here, they can see the results of students' year-long projects."

Students begin bringing projects to GMC Thursday, and the fair is free and open to the public beginning 8 a.m. Friday.

An awards ceremony concludes the day at 4 p.m.