FHSU TEECA wins competition at international conference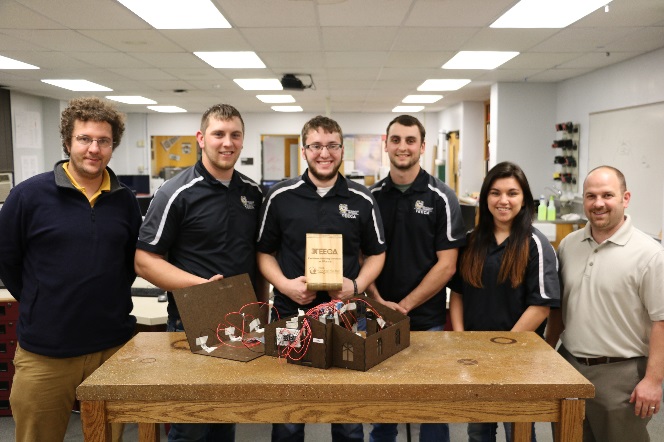 04/08/16 sry
HAYS, Kan. -- Fifteen students representing the Fort Hays State University Technology and Engineering Education Collegiate Association won first and second place titles at the recent International Technology and Engineering Educators Association 78th annual conference in Washington, D.C.

FHSU placed in four of six competitive events. They placed first in problem solving, second in live manufacturing, third in robotics and third in transportation.

Having four top finishes earned FHSU a spot as the second most-placing university. FHSU competed against 14 other universities, including Division I schools. Earning the No. 1 spot was Brigham Young University with five top finishes. California University of Pennsylvania, with three top finishes, was No. 3.

In the problem solving competition, Hays freshman Brady Hutchison, Dighton freshman Kori Sanchez, Hays junior Anthony Walters and Grinnell junior Wade Buck teamed up to solve the challenge of building a model museum with electronic controls for the lights and doors as well as an emergency escape plan on site. The team developed the structure of the model using a department laser engraver and worked in collaboration with Dr. Dmitry Gimon, assistant professor of informatics, who used an Arduino write code and programmed the lights, doors and LED display.

"This team exceeded 30 hours of extracurricular work -- nights and weekends -- to make this championship a reality," said Eric Deneault (pronounced d'KNOW), assistant professor of applied technology.

In the live manufacturing competition, Rush Center senior Michaela Jochem, McPherson junior Aaron Elsasser, Buck, Walters, WaKeeney senior Blake Fritts and Gypsum junior Heather Cleveland designed, documented and implemented a continuous manufacturing system. Participants were judged according to their pre-production process, documentation and overall quality of the final project.

"These individuals dedicated more than 150 hours of extracurricular activity to their final project. This truly exemplifies the passion and dedication that these individuals have to their department, college and career," said Deneault.


In the robotics competition, Assaria sophomore Davin Smith, Russell sophomore Devin Thomas, Ness City sophomore Landon Fellhoelter and Garden City junior Jose Vital formed a team to engineer a robot that would pick up and launch objects into a goal.

"The FHSU team had one of the most elaborate and intricate robots competing in the ITEEA Vex National Robotics Tournament and went on to defeat the defending champs," said Deneault. "This team exceeded 85 hours of build time and was awarded, for the second year, the Student Government Association equipment request fund to purchase robotics equipment, allowing us to be a model university and have an elitist program recognized nationally."

In the transportation competition, Superior senior Raile Blackburn, Concordia senior Joshua Pounds, Clay Center junior Dustin Braun and Sanchez faced the challenge of picking up and dropping off triangular straw prisms from a docking station with a quad copter.

"After only placing two straws in the field of play in the first round, this team overcame adversity and went on to place the most amount of straws in the target zone over the next two rounds. Their performance landed them second place," said Deneault. "They went on to complete in a final four round for bragging rights and placed first in the all-around."

Jochem, a 2012 Mullen High School graduate, received the 2016 Foundation for Technology and Engineering Educators/Maley Outstanding Undergraduate Student Award. She is the president of FHSU TEECA and has participated on the live manufacturing team over the last two years, earning two regional championships and two national runner-ups. Jochem also delivered a presentation titled "Live Manufacturing & STEM Applications."

Deneault and Randy Jordan, assistant professor of applied technology at FHSU, were team sponsors. TEECA is a pre-professional organization for college students interested in applied technology.

Cutline: Members of the 2016 TEECA problem solving winning team at the 78th annual ITEEA conference are, from left: Dr. Dmitry Gimon, Anthony Walters, Brady Hutchison, Wade Buck, Kori Sanchez, and Mr. Eric Deneault.