FHSU to celebrate 50 years of rodeo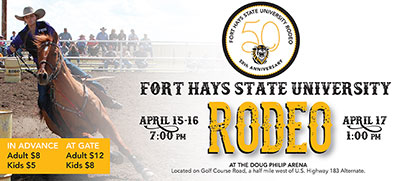 04/06/16
By Diane Gasper-O'Brien
University Relations and Marketing
HAYS, Kan. -- There are so many activities surrounding the 50th annual Fort Hays State University Rodeo that Bronc Rumford has to check a list to make sure he isn't forgetting anything.

The three-day event that annually brings approximately 3,000 people to Hays is set for April 15-17 at Doug Philip Arena, located on Golf Course Road, a half mile west of U.S. Highway 183 Alternate.

Performances are scheduled for 7 p.m. Friday and Saturday and 1 p.m. Sunday, which will follow a 10 a.m. cowboy church service at the arena.

Ticket prices are $8 for adults in advance or $12 at the gate. Children are $5 in advance and $8 at the gate. FHSU students are admitted free with their Tiger ID card. Tickets can be purchased at three different locations in Hays -- the Student Service Center in FHSU's Memorial Union; Orscheln Farm & Home, 2900 Broadway Ave.; and Vanderbilt's, 2704 Vine.

Various memorabilia will be for sale at the rodeo, including T-shirts and sweatshirts. Also for sale will be a limited number of 50th anniversary commemorative belt buckles, created by Tobias Flores, FHSU associate professor of art and design, and each engraved with their own number. Belt buckles No. 1 and 50 will be auctioned off at the alumni banquet.

Alumni from around the country are expected to return for the milestone event, which is the second oldest college rodeo in the Central Plains Region.

One of those alums is Rumford, who has been involved in the FHSU Rodeo since he was a youngster.

Rumford's family and FHSU Rodeo have been synonymous from Day One. The family's business, Rumford Rodeo Co., out of Abbyville, furnished stock for the rodeo for several years. Bronc then competed in rodeo during his college days at Fort Hays State in the early 1970s and now serves as the head coach for the FHSU Rodeo Club.

In addition to the regularly scheduled events for the 2016 FHSU Rodeo, there will be an alumni reunion and banquet from 12:30 to 5 p.m. Saturday at FHSU's Robbins Center.

"There will be a lot of stories," Rumford said. "We never let the truth get in the way of a good story."

Competition begins Friday morning and runs through Sunday afternoon for nearly 500 contestants from 25 different colleges in Kansas and Oklahoma.

"They will start rolling in here on Thursday and be here the whole weekend," Rumford said. "It's an exciting time."

One of the activities Rumford is most excited about is new to the FHSU Rodeo this year -- the first ever college rodeo bullfights following Friday and Saturday nights' competitions.

Numerous alumni play a major part in the rodeo, including Mike Greenleaf, whose family owns Medicine River Rodeo from Greensburg, which provides all the stock for the competition.

In addition, FHSU graduate Frank Ringleman from Franklin, Neb., competes in cowboy cook-offs and will cook the meat for Saturday's alumni banquet.

While putting on the rodeo is a lot of work, Rumford credits members of the FHSU Rodeo Club for the bulk of the responsibilities.

"This whole rodeo is put on by the kids," he said. "The labor, the marketing, ticket sales. It's their rodeo.

"The university is really supportive of rodeo," Rumford said. "That's what makes it fun."