Galápagos trip big adventure for FHSU students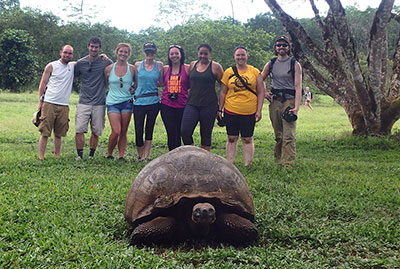 04/12/16

By Randy Gonzales
University Relations and Marketing
HAYS, Kan. -- A trip to the Galápagos Islands was an adventure of a lifetime for a pair of Fort Hays State University students.

Leavenworth junior Audrey Baumbach and Topeka freshman Sami Montgomery were among seven Fort Hays State students who made the trek over spring break to the place where famed naturalist Charles Darwin studied animals and plant life. David Levering, education director at FHSU's Sternberg Museum of Natural History, led the expedition.

"That's always something that's been a bucket-list trip, something you know you're passionate about but you know there's no way I'm going to get there," Montgomery said. "Just having that option was a really big deal."

A few days after arriving back in Hays, Montgomery still marveled at where she had just come from.

"It's just unbelievable," she said. "I think I'm still in shock that it even happened. Just seeing the environment, the habitat, the wildlife down there -- even the culture and the people. It was my first time out of the country."

Baumbach was equally amazed.

"From a biological standpoint, the Galápagos Islands is the No. 1 place I could go for studying wildlife biology," Baumbach said. "I was just in awe almost the entire time -- that I was standing on the Galápagos Island, looking at Darwin's finds, seeing the giant tortoises.

"The whole thing was just incredible," she added. "It took a while to sink in what we were doing and where we were."

The spring break trip to Ecuador and the Galápagos Islands was part of Sternberg's effort to reach out to undergraduate students. Levering hopes to lead a student trip to the Amazon for spring break 2017.

"It provides us a way to interact with the undergraduates here in a new and very memorable way," Levering said.

The giant tortoises were a big hit.

"Seeing the giant tortoises -- I don't think anyone understands how big they are until you're standing next to one," Baumbach said.

The students also had the opportunity to swim with the sharks; sharks around the Galápagos Islands are considered docile.

"I wasn't scared at all," Baumbach said. "I've been waiting since I was five years old to swim with sharks."

Montgomery had a different reaction -- at first.

"I definitely was the scared one on the trip," she said. "An entire day before the trip I was freaking out. I had to tell myself it was a once-in-a-lifetime experience. When you see the sharks, you're so amazed you're not even scared."

The trip fits FHSU's mission.

"Fort Hays State's motto is 'Forward thinking. World ready.' I truly believe you can't say you're forward thinking, world ready until you've been out in the world," Montgomery said.

The chance to do something like this makes FHSU the place to be for Baumbach.

"I think it's amazing," Baumbach said. "I never even thought you could just go to the Galápagos Islands.

"I think it's incredible they had the opportunity for us, because that's not something that happens all the time," she added. "It's extremely rare. The fact I got to go -- I feel extremely lucky."

To see photos from the trip, look for the "Galápagos Study Abroad 2016" album on the FHSU Sternberg Museum Facebook page or visit http://ow.ly/10ARbv.
To get a student's perspective, see the guest blog posts at http://sternbergpaleo.blogspot.com/2016.



Photo caption: David Levering (far right) with Galápagos study abroad participants and a giant tortoise on Santa Cruz Island.