Walk a mile in her shoes campaign returns to FHSU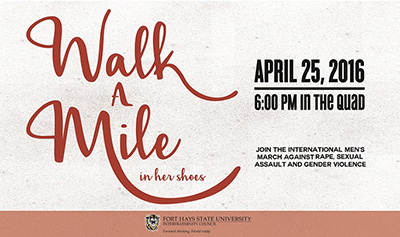 04/22/16
HAYS, Kan. -- Fort Hays State University fraternity men are trading their sneakers for high heels. The Walk-A-Mile in Her Shoes campaign is returning to FHSU for an eighth year.

The event raises money and awareness for the victims of domestic and sexual abuse. All proceeds will be donated to Options Domestic and Sexual Violence Services, and Jana's Campaign.

The event starts at 6 p.m. Monday, April 25, on the Memorial Union patio with speakers Dr. Curt Brungardt, Katie Dinges, and Jessie Mcaughlin. The mile-long walk around campus will begin when the speakers are finished.

Walk-A-Mile in Her Shoes is open for anyone to participate. The registration fee is $15 and includes a T-shirt. Participants who pre-registered will receive their shirts the day of the event. People who register the day of the event will receive their shirts later.

The goal is to raise $1,000 for each charity.

"Too many women are victims of sexual violence," said Jacob Ternes, coordinator of student involvement and Greek Life.

"This event raises awareness, hope and money for the one in five women who will fall or have fallen victim to treacherous attack," he said. "With this event you can learn how to prevent domestic and sexual violence."

For more information, contact Ternes at jaternes@fhsu.edu or at 785-628-4664.