Windy, wet, 'wonderful' weekend at FHSU's 50th anniversary rodeo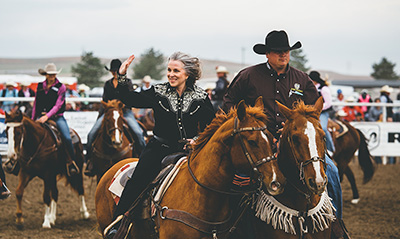 04/20/16
By Diane Gasper-O'Brien
University Relations and Marketing
HAYS, Kan. - Fort Hays State University President Mirta M. Martin agreed to ride in the opening ceremonies for the public performances, no matter what the weather.

Lola Rumford, one of the oldest fans in the stands, kept using the word "wonderful" when describing the weekend.

The return to Hays, and the Fort Hays State campus, after more than four decades was an eye-opening experience for Bob Kephart, FHSU's first rodeo club president.

All in all, most people involved with last weekend's Fort Hays State Rodeo - despite battling less than ideal weather conditions all weekend long - would call it a success.

The 50th anniversary celebration of the annual event in Hays not only brought nearly 500 college competitors to town but several dozen FHSU rodeo alumni for a reunion as well.

"It was an honor to be a part of the Fort Hays State Rodeo, especially on this golden anniversary year," Martin said.

Martin was a good sport, returning for Saturday's performance in the rain after getting her hat blown off as she rode into the arena on a windy, dusty opening night Friday.

Rumford, whose family has been involved in every single FHSU rodeo since the start, is 88 years old now and doesn't make the trip to Hays every year for the weekend activities.

But she weathered the storm and came to Hays for the 50th anniversary rodeo, and is she ever glad she was.

"I don't go like I used to," said Rumford, who lives in Abbyville in Reno County. "I tell them, 'I've been there, done that.' But I sure wanted to be at this one."

Partly because she wanted to see some of those former rodeo members who would be coming from near and far, and partly because her oldest son, Bronc, is the head coach for the FHSU rodeo team.

"My interest is still there, 100 percent," Mom Rumford said. "Your heart is in it, and it's been your life, so you just keep going."

Kephart had similar feelings, although he hadn't been back to campus since the early 1970s.

"I debated about coming," said Kephart, now 76 and living in Buffalo, Mo. "I thought, 'I won't know anyone, it's been so long.' But I'm sure glad I did. I thoroughly enjoyed it."

Kephart wasn't even involved in rodeo back in the mid 1960s when a college friend of his asked him to attend a meeting about organizing a rodeo club on campus. Before he knew it, Kephart was president of the club.

"I had family that rodeoed, so I'd been around it and was involved in the horse business," he said of his interest in helping start the club.

It was a trip down memory lane for Kephart and many like him, especially those from the 1960s who formed the biggest group of alumni attending the 50th anniversary activities.

He talked of working part-time in the campus library, which he thought was in McCartney Hall at the time because a new Forsyth Library building was under construction. He remembered returning to campus on Saturdays and during the summer months to work on his master's degree, which he finished in 1972.

Now, Forsyth Library is 49 years old, and many students work on their master's from afar - online.

Kephart hadn't been back to campus since '72, and was he ever in for a surprise.

"The campus has grown tremendously," he said. "I didn't know where anything was."

By the time Kephart left campus in the early '70s, the University Farm was the only part of FHSU west of Big Creek. Gross Memorial Coliseum was still under construction, and the Robbins Center, home to the FHSU Foundation and Alumni Association, wasn't even yet a dream.

Kephart has relatives in Trego County, where his grandfather owned a ranch, so WaKeeney was his first destination of the weekend. When he drove back to Hays, he took the farthest west Hays exit off Interstate 70 and headed south on U.S. Highway 183 Alternate, which happens to run along the west edge of campus.

"I saw this big building just off the highway, so I thought I'd stop by and see where I was supposed to go," Kephart said. "It just happened to be the alumni center."

While there wasn't a rodeo arena for students to use when Kephart was president of the club, there would be one in a short time.

Hays rancher Doug Philip was a friend of Kephart's family, and Philip agreed to be a citizen sponsor of the rodeo.

The first FHSU rodeo members began practicing at the Ellis Fairgrounds, about 15 miles west of Hays, and the first FHSU rodeo was held at the quarter horse grounds near the Hays Regional Airport.

Once the club was chartered, volunteers soon began building chutes and gates and fences, all on the Philip Ranch, and the arena went up on its present site.

The arena appropriately was named in honor of Philip, who died in 1996 at the age of 78. His two daughters, Kaylynn Philip and Sandy Sprague, grew up around rodeo and still live on the family ranch about 10 miles southeast of Hays. They both attended Saturday's alumni reunion, too.

"It was just amazing, so much fun to visit with everybody," Sprague, Philip's youngest daughter, said of the reunion.

She was sure her dad probably would have attended - and definitely enjoyed - this year's rodeo and alumni reunion. Doug Philip would be 98 if he was alive today.

"Our dad was always so involved with the rodeo. He just thoroughly enjoyed it," said Sprague, who can't remember when she didn't attend an FHSU rodeo and now serves as the veterinarian on call during rodeo weekend.

"It's alumni who have helped keep this thing going," said Bronc Rumford, who was a standout all-around competitor in rodeo during his college days. In fact, he was a two-time all-around champion twice at the FHSU Rodeo, in 1970 as a student at Hutchinson Community College and again in '74 as a Fort Hays State rodeo member.

"So it sure was a lot of fun to see the alumni enjoy themselves so much this weekend," he added.

One alum, Steve Knowles from Brighton, Colo., had something to boast about that most alumni in their 50s couldn't. He still competes in rodeo.

The 55-year-old Knowles, who was president of the FHSU Rodeo Club in the early to mid 1980s, tries his luck at bareback bronc riding and steer wrestling on the senior pro circuit.

"I'm going to win nationals this year," he said of the Senior National Finals Rodeo in Las Vegas, Nev., in October.

Building that type of confidence - in rodeo and in life - is what Fort Hays State is trying to instill in its students, Bronc Rumford said.

"Our main objective, other than to teach them how to rope and ride, is to teach them life lessons," Rumford said. "Those are going to be the important things, for example, learning the courage it takes to stand in front of a bull. How do you travel when you're broke and your truck is broken down? These are things you are going to have to learn to live."

Even 5-plus inches of rain Saturday and Sunday didn't dampen the spirits of those attending the rodeo.

"You have to always look at the positives," Bronc Rumford said. "All of us in agriculture will have grass and crops and hay to feed our horses. It would be pretty narrow minded of us to complain because we had to be uncomfortable for three days.

"Those are all life lessons to learn," he added. "I'm 64 and been in rodeo all my life, and I'm still learning. That's why it's fun. It's a challenge."

Rumford was especially pleased how the rain perked up the campus for the visitors.

"You can't believe the great comments about what a fabulous place this is and how much campus has changed," Rumford said. "I know I'm biased about this being a great university, but I've traveled all over the world. What Dr. Martin and Dr. (Edward) Hammond before her, have done over the last 20, 30 years, the continual upgrades … I'm telling you, this is a first-class place."

Cutline: Fort Hays State President Mirta M. Martin waves to the crowd as she rides into Doug Philip Arena at this year's Fort Hays State Rodeo in Hays. Photo by Jared Tadlock, University Relations and Marketing.