'Matriarch' leaves legacy at Fort Hays State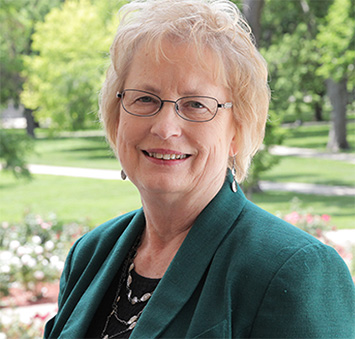 05/27/16
By Diane Gasper-O'Brien
University Relations and Marketing
HAYS, Kan. -- Showing outward emotions isn't part of Judy Getty's DNA. She admits that not many people have seen her cry.

Nonetheless, Getty said she got a little teary eyed this week while preparing a talk for her retirement reception.

Getty -- after 43 years and nearly 10 months of working for Fort Hays State University -- is retiring May 31, and the Stouffer Lounge in FHSU's Memorial Union was packed with supporters to wish her a fond farewell Friday afternoon.

After several moves among buildings on the university quad, Getty settled in as director of Student Fiscal Services in 1997 and has been there ever since.

She loves her office. She loves her job.

"But you just know when it's time," Getty said earlier this week while looking out a window of her third-floor office in Picken Hall.

"I have a great staff, and it's time to give them the opportunity to be who they can be," Getty said. "They learned well, and it's time for them to have the opportunities to advance like I did."

And advance she did.

Getty started at FHSU as a copy setter for brochures in the Copy Center in Martin Allen Hall back in September 1972. She became secretary for the business department in 1975, which then formed the School of Business a year later. She served as secretary to the dean of the School of Business until 1980, then moved to the business office as a loans and grants accountant. Seventeen years later, she was part of another new venture when Student Fiscal Services was formed, and she was appointed director.

Along the way, Getty earned her bachelor's and master's degrees as a non-traditional student over a 20-year period.

"I was very fortunate to have all the opportunities I've had at Fort Hays State," she said. "I am very familiar with what non-traditional students have to go through to get their degrees."

Not only did Getty help students but co-workers as well.

"She helped me out," said Craig Karlin, FHSU registrar who has worked with Getty in several capacities in his 27 years at the university. "More importantly, she helped a lot of students in the process of enrolling and getting into college and getting out of college."

Several people spoke at Getty's reception, calling her a matriarch of the university.

"She goes by the book, but she will go to bat for every student on this campus," said Dr. Joey Linn, vice president for Student Affairs.

May Schumacher, Getty's assistant for the past nine years who will take over as director come Tuesday, said she learned a lot from Getty.

"She was a great mentor for me; she taught us very much about working as a team," Schumacher said. "Our office has been very much a team environment. I hope she leaves those 43-year-old shoes somewhere in that office."

Getty has witnessed a lifetime of changes at Fort Hays State over the years. After all, she has worked under four of FHSU's nine presidents -- Dr. John W. Gustad, Dr. Gerald W. Tomanek, Dr. Edward H. Hammond and Dr. Mirta M. Martin.

But, she pointed out, two things have remained constant: Tiger pride and keeping students' needs as the number one priority.

"Look at this campus, how beautiful it is. There is so much pride here, Tiger pride," Getty said while taking a stroll on campus earlier this week.

She talked about her love of the university, and its core purpose, as she walked.

"I've taught my staff from the beginning of time, 'Don't discriminate,' " Getty said. "If you just remember, 'Students first,' you'll do fine.

"I just really believe in Fort Hays State," she added. "I believe in students; that's what we're here for."

Getty smiled as she reminisced about her early days at Fort Hays State, that it didn't seem all that long since she was a student herself.

"It seems like about 10 to 15 years," she said. "It sure doesn't seem like 40-some."

Getty had the skills to be successful from the beginning, said Thelma Smith, a co-worker of Getty's in the Copy Center.

"That gal was an excellent worker," said Smith, a clerk typist in the Copy Center for 21 years who retired long ago.

"(Her supervisor) would tell Judy what to do one time, and she knew what to do," added Smith, who still lives in Hays. "I thought she was a jewel of a worker, but what I really liked about her was that if there were people fussing or feuding in the office, not Judy. She was so even keeled."

After graduating from Otis Rural High School in 1966, Getty, a native of Olmitz, enrolled in a business college in Hutchinson for a 15-month program. She worked for five years in Hutchinson and Hays before deciding to stay home with two of her three daughters for about eight months before taking the State of Kansas Civil Service Exam.

She successfully sought the job in the Copy Center and started work on Labor Day 1972, and thus began her long career at Fort Hays State.

That was back when the students had class on Labor Day," Getty said. "My dad asked me, 'Why would you ever start a job that works on Labor Day?' It's a good thing I did."

She has looked forward to every Labor Day since, partly because it's near the start of another new school year.

"The neat thing about working at the university, you can start fresh three times a year," she said. "If you had a rocky semester, you have a new start with the next one."

Labor Day 2016 will be one to remember for Getty. It will mark the first one in more than four decades where she won't have to be at work the next day.

Chances are, Getty will be out tending her flower garden and thinking of those folks who still have to go to work that morning. That list includes her husband, Larry, director of Budget and Planning at FHSU who she met in her early days on campus.

"The people are what makes this place," she said. "All the people I've worked with, my mentors, the memories, the fun. I'll never forget them. You go through people's lives with them -- their weddings, their kids' weddings. What good memories."

Even in retirement, Getty will continue taking journeys with people as a Hospice volunteer.

"I had been a volunteer before, but you can't do it justice when you work full time. Now I can do that," she said. "It's rewarding to go on somebody's journey with them at the end of their life."