3 FHSU nursing students recognized with Stroup Awards as outstanding 2016 graduates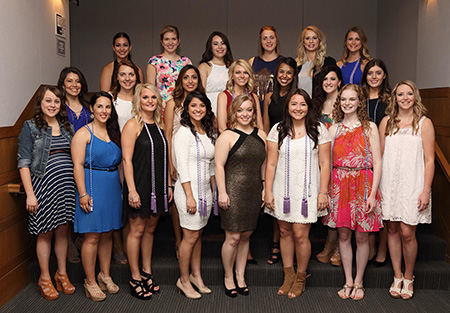 HAYS, Kan. -- Outstanding nursing graduates for the 2016 class at Fort Hays State University were named today in a ceremony in the Beach/Schmidt Performing Arts Center on the FHSU campus.

Leora B. Stroup Awards, named for the founder of FHSU's nursing program, recognize are given for outstanding clinical performance, community involvement and academic achievement in three categories.

Plainville student Taylor Hixon was named the outstanding on-campus bachelor's degree graduate.

Deb Alvarez, Hays, was named the outstanding outreach student. The outreach award goes to a student in the RN-to-Bachelor of Science in Nursing program. Course work for the nurses in this program are conducted through the Virtual College.

Arika Fanshier, Great Bend, won the graduate student award. Fanshier is graduating with a Master of Science in Nursing in the family practitioner track.

Also in the ceremony, 22 Bachelor of Science in Nursing graduates received their pins. Twenty-nine MSN graduates and 45 outreach graduates were also recognized.