A Fort Hays State graduate posts best CPA score in Kansas - again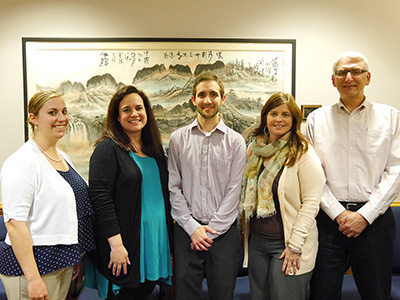 05/05/16
By Diane Gasper-O'Brien
University Relations and Marketing
HAYS, Kan. - Denis Miller knows he's getting some of the best the area has to offer when he hires a Fort Hays State University graduate. Now, he can boast of having one of the state's best working for him.

Miller, a partner of Mapes and Miller Accounting Firm and an FHSU alum, was back at his alma mater earlier this week to help honor Kyle Staab for scoring the highest score in the state on the Uniform CPA Examination for the 2015 July/August testing window. The certified public accountant exam is comprised of four separate sections that must be passed within an 18-month window.

It's the third time in five years that a Fort Hays State graduate has recorded the best CPA exam score in Kansas during their particular testing window.

"I was elated and very proud that Kyle had the top score in Kansas," said Dr. Mark Bannister, dean of the College of Business and Entrepreneurship. "I think this continues to show that we have some very bright students who are provided with an excellent accounting education by our faculty."

Miller, who returned home to his native Phillips County after graduating from FHSU more than 20 years ago, said "we always go to Fort Hays State first," when hiring accountants for one of his four locations in northwest Kansas - Phillipsburg, Norton, Stockton and Quinter.

"We've always known that Fort Hays State has a very quality accounting program," said Miller, who works out of the Phillipsburg office and proudly states that all but four of the 15 current accountants working for Mapes and Miller are Fort Hays State graduates.

One of those is Staab, who wasn't even pursuing an accounting career when he graduated in spring 2012.

Staab, a 2006 graduate of Hays High School and the middle sibling of three, decided not to follow his older brother to Kansas State University and stayed close to home for college.

"I thought it was more affordable," he said of his decision, "and I knew (FHSU) had a really good finance program."

Yes, he said finance program.

Staab had no aspirations of becoming an accountant and only added the accounting emphasis to his curriculum his senior year because "I thought the accounting classes would complement the finance part, make my resumé look better. I thought it would set me apart when looking for jobs."

Even after his graduation from Fort Hays State, Staab was still looking for a job at a financial institution.

Then, he got a call from Miller.

"When we first called him up about working here, we asked if he'd be interested in coming to Phillipsburg," Miller said. "And he asked, 'Where is Phillipsburg?' "

Staab laughs at the ribbing, explaining that "in high school, we never played Phillipsburg in sports. I'd heard of it and knew generally where it was. But we weren't planning to stay close to home."

However, Staab and his wife, Jenna - who also grew up in Hays - checked out the opportunity in Phillipsburg and found the entire package to their liking.

"It was an adjustment not being able to go to Walmart (in Hays) any time of day," he said. "But we've certainly enjoyed it here in Phillipsburg, especially with kids. It's nice to experience a small place where you feel safe wherever you go."

The entire package was a good fit for the young couple, although the accounting track was a new idea for Staab, who didn't immediately respond when Miller told him to take the CPA test.

"Denis encouraged me for a while to take the test," Staab said, "but I kind of put it off."

Staab took the first of the four-part test in 2014 and was surprised when he scored a 93. The grade on his second test was even better (a 98), and he scored in the 90s on the next two tests as well.

His average of 94 just missed the cutoff of 95.5 and making the top-10 national list. Nonetheless, it was the best in Kansas during that testing period.

"I certainly wasn't expecting that," Staab said.

It's something Bannister has almost come to expect, though, considering FHSU's track record over the past five years. So he knew the drill in planning a reception for Staab.

Fort Hays State didn't learn about Staab's accomplishment until late last year.

"Then it was Christmas, then our winter break," Bannister said. "Then it was tax season for Kyle."

There was another reason to wait until May for the reception. The Staabs were expecting their second child, who was born April 21. So baby Cora, not even yet 2 weeks old, was able to join older sister, 22-month-old Remy Jo, in helping their dad celebrate this week.

Coincidentally, it's also the time of year that Bannister's phone rings in his office, and there are potential employers on the other end.

"For the last several years, when we get to the end of April and early May, I get more and more accounting firms that call and ask, 'Are you sure you don't have more graduates? We love Fort Hays State accounting graduates,' " Bannister said. "We have alumni scattered from coast to coast in both public practice and in very important internal positions within organizations."

An alum near and dear to Miller is one of those - his daughter, Heather Miller.

"Our daughter works for KPMG in Dallas," Miller said of one of the world's four largest accounting firms known as the Big Four. "And she was amazed at Kyle's score. They don't even see scores like that there.

"You can go your entire career and not meet anybody who has scored that high," Miller added.

Unless, of course, you meet up with a Fort Hays State accounting graduate.

Cutline: From left, instructors Misty Schartz and Jessica Heronemus; Kyle Staab; Emily Breit, chair of the Department of Economics, Finance and Accounting; and professor Charles Gnizak.